Braimah Passes Hammond in State Hurdle Race
KSCB News - May 5, 2012 7:02 am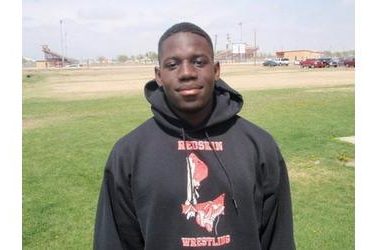 There is quite a race for the best time in the 300 hurdles. The state wide race centers on Liberal, Kansas. Trenton Hammond had the best time in the state until LHS senior Adebayo Braimah passed him Friday in the Goddard running the event in 38.68 for first while Hammond ran the race in a season best time of 38.73 for second. The Liberal boys finished third at Goddard with 69 points trailing first place Bishop Carroll who scored 138 and Andale who scored 96. Rose Hill was fourth with 60 and Maize had 59 for fifth out of 15 teams. The LHS girls were ninth with 37 points trailing the top five of Maize (101), Bishop Carroll (94.5), Pratt (55), Andale (52), and Wichita Northwest (44).
Here are Liberal's top four placers at Goddard Friday.
Boys
300 Hurdles- Adebayo Braimah 1st 38.68 and Trenton Hammond 2nd 38.73
110 Hurdles- Trenton Hammond 3rd
Discus- Justin McPhail 2nd
Shot- Justin McPhail 2nd
4×400- 2nd with Trenton Hammond, Michael Sena, Irving Altamirano, and Adebayou Braimah
4×800- 2nd with Cody Smith, Fidel Munoz, Erik Minjarez, and Mersheek Wiltshire
3200- Angel Viveros 3rd
Girls
Triple Jump- McKenzie Wright 1st 36'7.5"
100 Hurdles- Jai Chapman 3rd
High Jump- McKenzie Wright 4th
3200- Destyni Lucero 4th
Liberal competes Thursday at the WAC meet in Dodge City.