Brady Kappelmann Wins Stu Melchert Voice of Excellence Scholarship
Brock Kappelmann - May 2, 2022 1:04 pm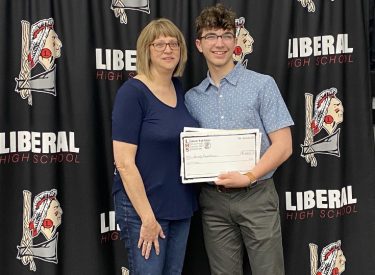 Stuart L. Melchert Voice of Excellence Scholarship recipient for 2022 is Brady
Kappelmann.
Stuart Melchert received his start in radio in the early 1960's after being hired by
former Governor and Presidential Candidate Alf Landon. Stu started with KSCB as
an announcer and news man and eventually working in all aspects of the radio
business. Stu served as President of the Kansas Association of Broadcasters and
was elected into the Kansas Association of Broadcasters Hall of Fame in 1996.
Stu was instrumental in maintaining KSCB's flagship station 1270 AM, and also
adding KSCB FM 107.5 and in the mid 1990's, launching KLDG FM 102.7 The
Legend. Stu was very much a part of the day to day operations of Seward County
Broadcasting til the day he died.
Stu was also very active in the Community of Liberal serving on the Board at 1st
National Bank now Equity Bank, Chaired the Republican Party, was a member of
the Wizards of Harmony Barbershop Group, Ozfest Committee, Served as
Chairman of Pancake Day, was elected into the Pancake Day Hall of Fame and
served on countless other boards and civic organizations. He and his wife Janice
helped start Liberal Hearing Aid Center. Stu was an avid OU fan.
Senior US Senator Pat Roberts referred to him as, "The Voice". Stu was respected
and revered not only in the Broadcast Industry, but also in the Community he
called home.
Upon his death on June 26, 2018, his family created this scholarship to honor his
legacy.