Brady Cox Named UTA Pitching Coach
Brock Kappelmann - August 17, 2020 4:21 pm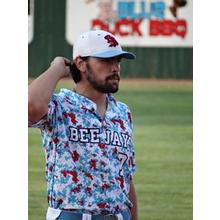 Liberal Bee Jay Brady Cox is the new pitching coach for his alma mater, Texas-Arlington. He played for the Bee Jays in 2014, 2015, 2016, and 2020.  Here is the press release from Texas-Arlington.
Former UTA standout Brady Cox has been hired as Assistant Coach to the UTA baseball staff, announced by Head Coach Darin Thomas.
"I can't wait to see the imprint Brady will make on our program," said Thomas. "He will be an outstanding addition to UTA and our baseball program."
Cox, drafted by the Kansas City Royals in the 36thround of the 2017 draft, spent three seasons in the Royals organization. He made 141 at-bats, finishing with three home runs and 18 RBI for the Arizona League Royals and Idaho Falls Chukars. In his final season in Idaho Falls, Cox appeared in 18 games on the mound, finishing with a 3.72 ERA.
Cox spent four seasons with the Mavericks (2014-17). He had a breakout season during his junior campaign. After leading the team in average (.365), hits (81) and on-base percentage (.427), Cox was named a semifinalist for the Johnny Bench Award, given to the nation's top catcher. He was also named First-Team All-Sun Belt in 2016 and Preseason All-Sun Belt the following season.
The baseball staff is now full of former Mavericks as Cox joins Chad Comer (Assistant Coach), Cody Wernli (Director of Baseball Operations) and Drew Gooch (Graduate Manager).
WHAT THEY ARE SAYING ABOUT COX
"Brady Cox is an outstanding hire. He has a well-rounded skill set that will allow him to make an immediate impact on the program. His insight into the game and ability to connect with players will prove to be a successful combination."
-KJ Hendricks
Milwaukee Brewers Scout and Former UTA Assistant Coach
"Coach Thomas and UTA hit a home run hiring Brady Cox. Brady was a very heads-up player and true baseball guy.  He is going to be a very good young coach and will be a true up and comer in our game.  Cox is a true leader from day one when he first stepped on campus as a freshman."
-Jay Sirianni
Sam Houston State Head Coach and Former UTA Assistant Coach
"As a Royals minor leaguer, he was the type of teammate that made everyone around him better and I look forward to watching him do the same for the Mavs. He's definitely the type of coach you would want your son to play for and will be a great role model for them as well."
-Greg Miller
Kansas City Royals Scout
FOLLOW THE MAVS
For the latest news on UTA Baseball, log on to UTAMavs.com or stay connected to the Mavs on social media. Follow the Mavericks on Twitter @UTAMavsBSB.