Saints Advance to Fiesta Bowl Championship
Joe Denoyer - December 28, 2018 10:17 pm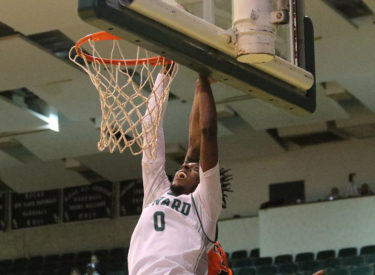 MESA, Ariz. – The Seward County Men's basketball team came away with a hard fought win over the Mesa Thunderbirds in the semifinals of the Fiesta Bowl Junior College Shootout 58-50, to advance to the championship game. The win pushes Seward to 11-2 overall.
After an opening round game that saw plenty of offense, Seward and Mesa made defense the priority in the semifinals. At the first media timeout, the score sat at 14-14 after the Thunderbirds came back from a 10-5 deficit to begin the game. The teams continued to trade baskets the remainder of the half until Devin Bethely connected on the Saints lone three-pointer of the game to give Seward a four-point cushion. Free-throws by Bethely and Hegel Augustin extended the lead to seven points as the Saints took a 29-22 lead into halftime.
The Saints came out of the half with plenty of momentum, increasing their lead to double-figures for the first time in the game with an Isiah Small dunk to make it 38-27. The 11-point lead quickly dwindled as the Thunderbirds took advantage of an eight minutes Saints scoring drought, taking a 43-41 lead before Reggie Miller made a layup to end the drought and tie the game. The Saints used an 8-1 run over the next four minutes to regain the lead and force the Thunderbirds into a timeout to regroup, but it was too late as the run gave Seward the distance they needed to finish the game, winning 58-50.
It was not the best offensive performance by either team, as Seward shot 36.7 percent (22-for-60) from the floor, but a measly 1-for-19 (5.3%) from behind the arc. The Thunderbirds were held to 31.3 percent (15-for-48) from the field and 33.3 percent (5-for-15) from deep.  This marks the fourth time this season that the Saints have held an opponent to 50 or less points. Seward's outstanding rebounding continued as they out-rebounded Mesa 45-32.
Seward was led by Isiah Small who finished with his second double-double of the season coming away with 18 points and 10 rebounds on 7-of-10 shooting.
The Saints advance to the Fiesta Bowl Junior College Shootout Championship where they await the winner of No. 7 Salt Lake and No. 1 South Plains. The game with be at 9 p.m. (CT) on Saturday (Dec. 29) in Mesa, Arizona.