Boulder Edges Bee Jays
Brock Kappelmann - July 18, 2020 6:39 am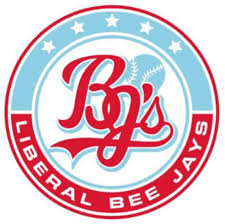 The Boulder Collegians handed the Liberal Bee Jays their fourth loss of the summer Friday night at Carpenter Field in Boulder.  The BJ's had won five in a row.
Liberal scored one in the first and one in the second before Boulder tallied two in the bottom of the second.  Boulder scored two in the third for the 4-2 lead.  The BJ's took a 6-4 lead with four in the sixth, but they would not score again.  Boulder scored one in the sixth and two in the eighth.
Liberal's pitching staff struggled to throw strikes walking nine.  Boulder also struggled walking 11.  Hits were even 8-8 and neither team committed an error.
Garrett Bonnett went 2 and 1/3 allowing four runs.  Cory Didier worked 3 and 2/3 solid innings striking out five and allowing one earned run.  Eric Heiman went two innings allowing two runs.  Caeden Trenkle was 3-5 while Kade Brewer was 2-2 with four RBI's.
Liberal falls to 21-4.  The same two teams meet Saturday night at 6 pm mountain time in Boulder.