Boot Hill Museum Bans Nooses
KSCB News - October 6, 2010 12:00 am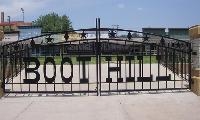 No more nooses will swing from the rafters at an Old West museum where a tourist almost accidentally hanged himself.
The Boot Hill Museum in Dodge City decided to take down all its
nooses after a 69-year-old man from Parks, Ark., was hospitalized
on Sept. 23. The man had his head in a noose and was getting his
picture taken when he lost consciousness.
Two women and an off-duty police officer helped free the man,
who was treated at Western Plains Medical Complex.
Executive director Lara Brehm said it
wasn't clear how the noose became loose enough to hang within
people's reach. It was hanging in its proper place when the museum
closed the night before the incident.