Booksigning At Liberal Memorial Library
KSCB News - February 18, 2014 8:56 pm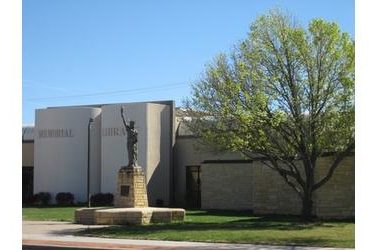 The Liberal Memorial Library will be hosting a book signing of "The
Bailey News" by Maryellen Anderson on Saturday, February 22 from 10 a.m.
to 12 p.m.
"The Bailey News" is the heartwarming story about a gentle old cat named
Bailey and the pet sitter who came to look after him for a few weeks.
One gave the other encouragement to try harder; the other gave the gift
of inspiration. Together they forged a special bond that developed
between the two of them.
Anderson's love of the written word began at the age of 12 after reading
Johnny Tremain by Esther Forbes. She became an avid reader and aspired
to become a writer while still in high school. Marriage and raising a
family led her down a different path in life but she never lost her love
of reading and writing – or of her dream. It was when her path crossed
with a special cat named Bailey that she found the inspiration she
needed to follow that dream.
Anderson has also maintained a lifelong interest in family history and
genealogy. She dreamed of someday traveling across the United States in
a motorhome to do her research. She finally realized that dream two
years ago when she left her home state of Washington to begin the
cross-country trek, spending weeks or months to "stop to smell the
roses" at places along her itinerary. It was during this time that she
published "The Bailey News" and, most recently, "The Grimm Family of
Sheybogan and Taylor Counties, Wisconsin." Maryellen has lived in 10
states and three years in Japan.