Bombs Away for Bee Jays in Fort Collins
Brock Kappelmann - June 11, 2022 8:26 am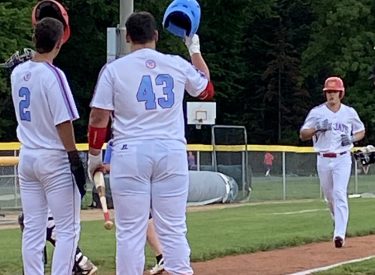 The Liberal Bee Jays banged out 19 runs, 19 hits, seven extra base hits, and three home runs in a 19-7 win over the Fort Collins Foxes at City Park in Fort Collins, Colorado Friday night.  Liberal is 5-0.
Keaton Grady walked to lead off the game and Gavin Bryzyowski ripped an RBI double to right.  Luke Smith launched a two run home run to left for the 3-0 lead.  The Foxes responded with six runs in the first.  Liberal walked five hitters and allowed three hits.  The BJ's took the lead back with four in the second.  Conner Westenburg lofted a home run to left center to make it 6-4.  Keaton Grady and Gavin Bryzyowski singled.  .Luke Smith grounded out to score a run and make it 6-5.  Tyce Armstrong singled.  Zach Yorke's bullet up the middle scored two and gave Liberal a 7-6 lead.  Tyce Armstrong walked to lead off the fourth and Jordan Thompson singled him home to lead 8-6.  The BJ's blew the game wide open with five in the fifth.  Brett Atkinson doubled to lead off the fifth.  Conner Westenburg singled.  Keaton Grady reached on an error.  Gavin Bryzyowski walked.  Luke Smith hit a sac fly.  Tyce Armstrong, Jett Brown, and Jordan Thompson hit RBI singles for the 13-6 lead.  Conner Westenburg doubled to lead off the sixth.  Keaton Grady doubled him home.  Gavin Bryzyowski ripped a home run to right center for the 16-6 lead.  The Foxes avoided the run rule with a run in the sixth.  Liberal scored three in the ninth.  After a pair of walks, Jett Brown hit an RBI double.  Jordan Thompson lofted a sac fly.  Chance Reisdorph grounded out to score the 19th run.
The BJ bullpen saved the day as Jackson Berry worked 4 and 2/3 shutout innings with four strikeouts and no walks.  Paul Bonzagni went four innings allowing one run.
Conner Westenburg was 3-3 with a home run and a double.  Gavin Bryzyowski was 3-4 with a home run and a double with three RBI's.  Luke Smith drove home four runs.  Jett Brown was 3-6 with two RBI's.  All nine starters had a hit and seven of the nine had multiple hits.
Liberal is 5-0 and Fort Collins is 1-2 in the Rocky Mountain Baseball League.  The same two teams meet Saturday night at 6:15 CST with pre-game at 6pm on 1270, 92.3, and The KSCB and The Legend App.