Boise City Shooting Leaves One Man Dead, Suspect At Large
KSCB News - June 12, 2013 6:59 pm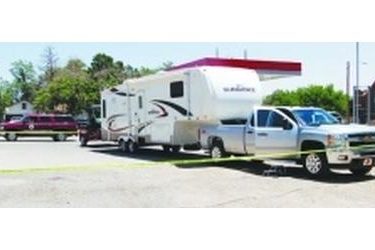 UPDATE:
LATEST UPDATE ON BOISE CITY SHOOTING: According to authorities, there could be three possible suspects. The shooter fled the scene on foot and the extended cab Chevy pick-up with other possible suspects took off.
Authorities unsure if the other suspects picked him up or if he is hiding.
UPDATE: as of 4:58 p.m.: Boise City Shooting Suspect possibly in a dark, possibly blue, late 90s-early 2000 model Chevy crew-cab, according Boise City authorities.
A 77-year-old male was shot and killed in Boise City this afternoon.
Chief of Police told a source that the victim was a 77-year-old male, and the suspect is a Hispanic male believed to be between the ages of 25-30.
The suspect fled the scene and is believed to be on foot, wearing khaki shorts/pants, is bald-headed, possibly with a hand gun, possibly no shirt.
The victim and his wife were traveling together and are from downstate Oklahoma.
The couple pulled into the Loaf 'N Jug parking lot and parked their four-door pick-up truck that was pulling a camper trailer as well as a second trailer parallel to the store.
The victim exited the vehicle where he was approached by the suspect, and then shot, according to the news media in Boise City.
Source at the scene reports that Life Star Landed, but left empty.
OSBI and Cimarron County Sheriff's office are working the scene.
Latest report from source on the scene states that law enforcement officials are searching out buildings and buses parked by nearby church.
More to come on this developing story.
According to another news source, Texas County Emergency Management advised the victim is deceased.