Bob Dole Passes Away
Joe Denoyer - December 5, 2021 12:57 pm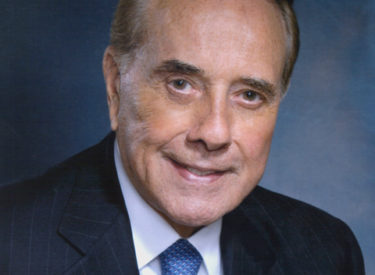 (KAKE) Former U.S. Senator and Russell, KS native Robert J. Dole has died at 98 years old. Flags at the U.S. Capitol are being flown at half-staff in his honor.
The Elizabeth Dole Foundation released the following statement today:
"Senator Robert Joseph Dole died early this morning in his sleep. At his death, at age 98, he had served the United States of America faithfully for 79 years."

Dole was diagnosed with stage 4 lung cancer earlier this year. This summer he said he underwent immunotherapy treatment which made it easier for him to tolerate.
Dole was born in 1923 and grew up in Russell. He went to college where he left to joined the Army and serve in World War II. While in combat he was wounded and earned two Purple Hearts and was awarded the Bronze Star.
After the war he become an attorney. Dole then served as a United States Senator from Kansas from 1969-1996 and was the Senate Majority Leader. The Elizabeth Dole Foundation says Dole set a record as the longest-serving Republican leader.

Dole was also the 1996 Republican Presidential Nominee losing to President Bill Clinton.
Dole was instrumental in establishing a monument dedicated to the 16 million "citizen warriors" of World War II. The view ends at the hills of Arlington Cemetery.
His website says, in 2007, President George W. Bush appointed Dole as a co-chair of the commission to investigate problems at Walter Reed Army Medical Center, along with Donna Shalala. Dole is married to former cabinet member and former U.S. Senator Elizabeth Hanford Dole.
In 2018, he received the Congressional Gold Medal, the highest civilian honor awarded by Congress. 
Earlier this year the White House described Dole as a close friend of President Joe Biden. The two served together in the senate for more than 20 years. President Biden paid Dole a visit this summer at Washington's Watergate Complex where Dole has been living.
A family statement and details about memorial events are to follow.