Bob Dole Back At Walter Reed Hospital
KSCB News - January 8, 2011 7:48 am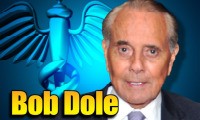 A spokeswoman for the Dole Institute of Politics in Lawrence says former Kansas Sen. Bob Dole has been readmitted to Walter Reed Army Medical Center in Washington, D.C.
Dole Institute spokeswoman Heather Anderson tells The Associated Press that Dole was admitted to the hospital Thursday. She said she had no additional details, and several messages left with Walter Reed staff weren't immediately returned Friday.
The 87-year-old Russell native spent 10 months at Walter Reed last year after suffering pneumonia three times following knee surgery in February. He left the facility in mid-November.
Dole was first elected to the U.S. House in 1960 and to the Senate in 1968. He was President Gerald Ford's running mate in 1976 and was the Republican nominee for president in 1996, losing to Bill Clinton.