Bloodied but Three Better than Butler
Brock Kappelmann - January 20, 2022 7:17 am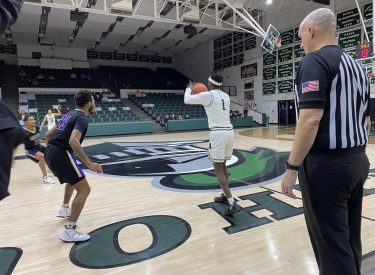 Playing with a bloody cut over his eye, Bee McCrary led the Seward County Saints to a 61-58 win over the #25 Butler Grizzlies Wednesday night in the Green House.  McCray was elbowed early in the second half but came back in the game to lead the Saints to their first win since December 30 and their first KJCCC win since December 13.
Butler jumped out to a 7-0 lead before the Saints rallied to take a 16-12 advantage.  Seward led 29-20 and grabbed their biggest first half lead of 31-20.  The Saints led 31-22 at halftime in the Green House.  Butler's press would help them rally but the Saints maintained their composure and shrugged off foul trouble to both starting posts  and led 45-37 and 49-39 before bolting ahead 56-43 with 7:24 to play.  But the Grizzlies came out of their slumber cutting the lead to 56-50 with 5:24 to play and 58-55 with 1:59 to go.  Bee McCrary knocked down two clutch free throws late for the win.
Seward held Butler to 34 percent shooting.  The Saints shot 43 percent.  Butler shot 22 percent from three point range and SCCC shot 32 percent from three.  Seward only committed 12 turnovers.  McCrary had 19 points with five rebounds.  Taye Donald had 14 points and six rebounds.  Will Dubinsky had 12 points.
Seward is 5-8 in the Jayhawk and snaps a four game losing streak.  Seward is 8-11 overall and Butler is 8-5 in the KJCCC and 14-5 overall.  Seward plays at Colby Sunday at 4 on 107.5 and the KSCB and The Legend App.