Blackwell: Bill Referenced In Indictment "Good"
KSCB News - March 31, 2011 4:41 pm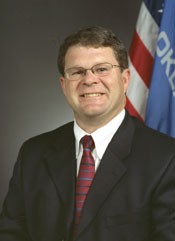 The House member who helped sponsor a bill referenced in a federal indictment of former state Senate President Pro Tem Mike Morgan is praising the legislation.
The indictment alleges Morgan was paid $12,000 in bribes from a company seeking to limit the state Health Department's regulation of assisted-living centers. A grand jury says as a result, Morgan wrote Senate Bill 738, which overwhelmingly passed in both legislative chambers in 2007 and was signed by then-Gov. Brad Henry.
Senior citizen advocate groups praised the legislation, saying it would make assisted-living facilities responsible for monitoring and assuring the care of residents.
Rep. Gus Blackwell, R-Goodwell, says "the legislation itself was very good" but he doesn't recall speaking to Morgan about the bill. Blackwell says he hasn't spoken to the FBI about it.