Black Hills Energy to Conduct Fire Safety Training for Southwest Kansas Firefighters
Joe Denoyer - March 28, 2023 5:05 pm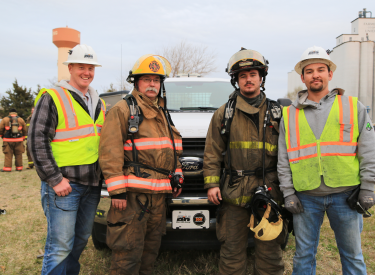 First responders throughout the region to gather in Hugoton for advanced response training
WICHITA, Kan. — March 28, 2023 — Firefighters from across southwest Kansas are invited to attend a natural gas fire safety training at 5 p.m. on April 6 at 928 E. 11th St, Hugoton, Kan. In addition to natural gas pipeline safety presentations, Black Hills Energy will conduct live-fire, hands-on training exercises to allow firefighters to practice containing and extinguishing natural gas-related fires under controlled circumstances.
"Although natural gas is safe and reliable, we practice and train for these types of rare events," said Jerry Watkins, Black Hills Energy General Manager. "This training provides a safe, controlled environment with instruction by trained professionals for both full-time and volunteer firefighters. During this training, they will learn how to safely and effectively extinguish natural gas fires if one were to occur."
During the training, firefighters will use both water and dry chemical extinguishers for natural gas scenarios they could experience in the field. They will also practice safely containing and extinguishing other types of natural gas fires, including simulated pipeline damages. The ultimate goal is a better understanding of emergency procedures to provide a safer environment for first responders and the community as a whole.
"Our work to maintain a safe and reliable system is a year-round responsibility," Watkins added. "We've provided a $63 million economic impact to Kansas and are committed to supporting our communities."
The Hugoton training is one of a series of fire safety seminars the company is offering to fire departments in Kansas. Black Hills Energy also educates firefighters about the various characteristics of natural gas so they can safely and effectively manage natural gas incidents. To learn more about natural gas safety, visit www.BlackHillsEnergy.com/safety.