BJ's Top A's 5-2
KSCB News - June 7, 2013 3:02 am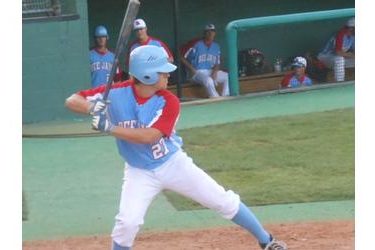 Despite four errors, the Liberal Bee Jays defeated the Dodge City A's 5-2 Thursday night at Cavelier Field in Dodge City.
The A's got on the board first with an unearned run in the first, but the Bee Jays took the lead for good in the third with two unearned runs of their own after 2nd baseman Darien Mclemore's fly ball to deep right was dropped by Dodge City's Kyle Young allowing two Bee Jays to score. Liberal tacked on another run in the third.
Dodge City had runners on second and third with just one out in the fifth inning, however the next two hitters struck out and grounded out.
In the 7th the A's tacked on a run and had the bases loaded with two outs, before A's catcher Cole Davis struck out leaving the bases loaded.
The Bee Jays added two runs in the top half of the eighth.
Liberal's Justin Bethard of Texas Tech earned the win pitching five innings and giving up one unearned run, off of just three hits.
Liberal's shortstop Tanner Rainey went 3-4 with an rbi single and a walk. Catcher Dylon Delso was 2-3 with a double and single. Designated hitter Sam Pack and first baseman AustinMurphy each added RBI singles.
Dodge City drops to 2-1 overall and 0-1 in the Jayhawk Conference. Liberal improves to 5-1 overall and 2-1 in league play. The Bee Jays will host Derby tonight, tomorrow and Sunday at 7 p.m. at Brent Gould Field. All three games will air on Talkradio 1270 and kscbnews.net with the dugout show beginning at 6:50, and the first pitch set for 7.