BJ's Split Double Header with Twins
KSCB News - June 14, 2015 8:02 am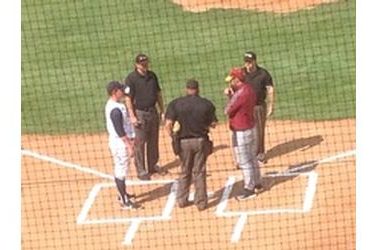 After scoring in double figures for the sixth time this season, the BJ bats fell dormant in a game two loss. The result was a split with the Derby Twins with an 11-4 win and a 4-1 loss Saturday night on Kids Night at Brent Gould Field.
Derby scored first against BJ starter Tyler Giovanoni with a run in the second. But the BJ's more than atoned with nine in the third. Jeff Bohling doubled home two to make it 2-1 before Matt Cole singled home two to give Liberal a 4-1 lead. Gavin Wehby tripled home two and Bryson Allen doubled him home. Luke Sherley singled home a run. Liberal added two more in the fifth as Allen led off the inning with a double. Giovanoni gets the win going four innings allowing two runs with four strikeouts. Jakob Hernandez pitched two and two thirds scoreless innings.
The BJ's couldn't get the bats going against Twin starter Todd Gibson in game two. The Twins scored one in the fourth and three in the fifth with three runs coming against the starter Trenton Rousseau wo lasted four and one third innings. Liberal made mental errors with two runners being picked off base in the first and falling asleep in the field allowing a run to score in the fifth. Liberal finally scored against Derby's closer in the seventh as Seth Stevens drove home a run as the Bee Jays loaded the bases with no outs but did not scored again.
Liberal is 9-4 and 5-3 and Derby is 6-9 and 3-6.
The same two teams meet Sunday night at 7 at Brent Gould Field on 1270 and kscbnews.net. The Leader and Times is the buyout sponsor.