BJ's Slip into Second
KSCB News - July 6, 2015 6:47 am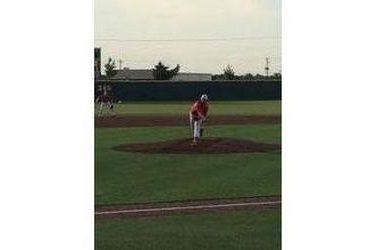 Well that was fast. Two nights after improving to 16-6 and winning eight of their last nine, the Liberal Bee Jays have lost three straight and have fallen into second place in the Jayhawk League North. Liberal led 7-2 in the middle of the sixth but lost 8-7 at Cavalier Field in Dodge Sunday night.
Liberal scored two in the third to take the lead. Brent Williams and Brady Cox smacked RBI singles. Dodge City scored two in the third to tie the game. Liberal took a four run lead at 6-2 in the fourth. Nick Chapman led off the inning with a triple before Jared Huber singled him home. Madison Foster's sac fly to right made it 4-2 and Brent Williams blasted a home run to left center to make it 6-2. It was Williams team leading sixth home run of the season. Foster singled home a run in the sixth to lead 7-2. But the Bee Jays had two runners thrown out at home at that point. Dodge City rallied late just like the night before scoring one in the sixth, three in the seventh, and two in the eighth.
Kadon Simmons was very good through six. He allowed two earned runs and four hits. But he ran into trouble in the seventh and allowed six runs and five earned runs. Grant Glaze and pitched two innings and allowed two runs for the loss.
Liberal and Dodge City split their season series 4-4. Liberal loses a third straight for the first time this season. They fall into second in the Jayhawk League North after the El Dorado Broncos won their sixth in a row. Liberal is 20-11 and 16-9 while Dodge City is 17-12 and 13-12.
Liberal hosts El Dorado for a four game series at Brent Gould Field beginning Monday night at 7. Sunflower Bank is the buyout sponsor.
Scores
El Dorado 7 Hays 5
Haysville 7 Derby 2
Wellington 4 Bethany 2
Standings
North
El Dorado 16-8
Liberal 16-9
Dodge City 13-12
Hays 11-14
South
Haysville 16-9
Wellington 14-10
Derby 8-17
Bethany 5-20