BJ's Rally Past Denver to Take Series
Brock Kappelmann - July 2, 2020 7:06 am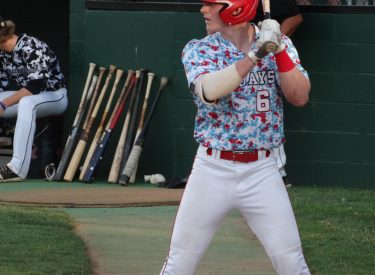 The Liberal Bee Jays have won every series this season.  That continued to be a true statement thanks to Liberal rallying past the Denver Cougars 6-4 Wednesday night at Brent Gould Field in Liberal.  Liberal wins the series 2-1.
Denver got off to another good start scoring single runs in the first, second, and third.  The Bee Jay rallied with two in the third.  Jake Schulz led off the inning with a double. Wilson Ehrhardt walked.  They both scored as Wyatt Grant and Bryce Donovan provided two out RBI singles through the right side.  Nate White whistled a double to right center and scored on a two out RBI single by Jack Malone to tie the game at 3-3 in the fourth.  Liberal actually took the lead in the sixth on a pop up on the infield.  Ehrhardt ripped a lead off triple down the right field line.  He scored on a Grant pop up that dropped for a single to give the BJ's the 4-3 lead.  Another run scored on an error.  Liberal added an eighth inning run thanks to a pair of errors.  Denver scored an unearned run in the ninth.
Tyler Hankins pitched three innings to begin the game.  Harris Shoemaker pitched three scoreless innings.  John Kelly and Eric Heiman worked scoreless innings.  Payton Strambler allowed an unearned run and did not allow a hit in the ninth for his fifth save.  Ehrhardt and Grant had three more hits a piece.  Ehrhardt was 8-11 in the series and Grant was 8-15.
Liberal is 13-2 and Denver is 11-6.  The Bee Jays host the Colorado Springs Outlaws at 7 Thursday night at Brent Gould Field with the Dugout Show at 6:45 on 1270 and kscbnews.net.  Technology for All is the buyout sponsor.