BJ's Pound Pueblo for Sweep
KSCB News - June 27, 2012 6:54 am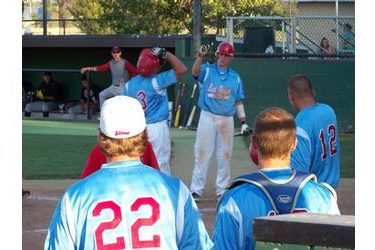 The Liberal Bee Jays continue to make quick work of non league opponents. Tuesday on a day when the temperature reached 109 degrees in Liberal, the Bee Jays kept the heat on the visiting Pueblo Collegians in a 20-3 victory in seven innings at Brent Gould Field. Liberal is 15-6.
The Bee Jays scored five in the first and and second before adding four in the fourth, three in the fifth, and three in the sixth.
Have a night Tyler Baker! The Wichita State player from Topeka was 4-4 with two triples, a double, and four RBI's. Louisiana Tech's Stephen Gandy was 4-5 with a homer (3) and three RBI's. OCU's Johnathan Sigado was 2-4 with a three run homer (3) and four RBI's.
OCU"s Dalton Bernardi pitched three innings allowing two runs. UTA's Zach Thompson went two innings allowing a run. Wichita State's Kyle Vail pitched a scoreless inning and Seminole State's Cale Russell worked a scoreless inning.
The Bee Jays are 6-0 in non league games with five of the games ending in a run rule.
Liberal returns to Jayhawk League play Wednesday night at 7 p.m. at home against the Hays Larks. Clingan Tires is the buyout sponsor and the BJ's return to Talkradio 1270 and kscbnews.net.