BJ's Piece Together Opener
KSCB News - May 30, 2013 7:14 am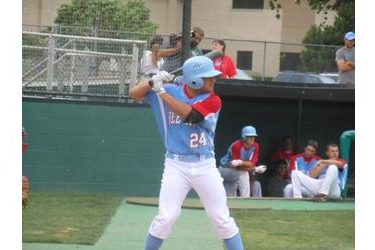 It is still May. So the Liberal Bee Jays had a few players out of position for the opener and it showed. But they still found a way to win their opener 6-4 over the Owasso Angels Wednesday night at Brent Gould Field. The Bee Jays had four errors due to players in unfamiliar positions but pitchers did not allow an earned run and Liberal out-hit the Angels 7-6.
Lubbock Christian's Tanner Rainey, back to the BJ's after hitting .342 for them last sumer, delivered a wind blown triple to lead off the bottom of the first and he would score when Nicholls State's Seth Stevens grounded out. The BJ's scored a run thanks to an Owasso error in the third. Owasso plated three in the fifth thanks to a pair of BJ errors.
Hill College's Ryan Schilhab, who played for the BJ's last year, delivered a bases loaded base clearing double to left to make it 5-3 in the fifth. Tanner Rainey homered to left in the sixth to make it 6-3.
Seward's Tyler Wiedenfeld pitched three scorelesss innings with five strikeouts. Coffeyville's Tyler Busspitched two innings without allowing an earned run. Arizona Western's Jose Rosales-Rodarte pitched four innings with six strikeouts, no walks, and no earned runs.
The game was played with 40 mile per hour wind gusts blowing out to left. Owasso is 2-1 and Liberal is 1-0.
The same two teams meet Thursday night at Brent Gould Field at 7. Clingan Tires is the buyout sponsor.