BJ's Hit Six Home Runs in Win
KSCB News - June 27, 2015 9:42 am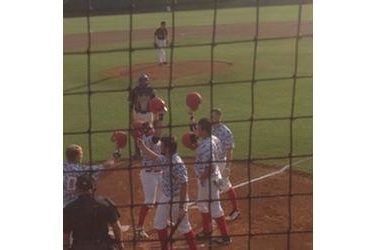 Playing on a small high school field in Bethany, Oklahoma with the wind blowing out, the Liberal Bee Jays took advantage. The Bee Jays slugged six home runs including four in an inning in a 15-10 win Friday night at McFarland Park.
Liberal scored five in the first thanks to three walks, two beanballs, and a Madison Foster grand slam to left. The Bulls bounced back six runs on two home runs against starter Tyler Giavinoni. The BJ's busted out the big sticks in the fourth when Gavin Wehby(3rd), Matt Cole(1st) and Brent Williams (4th) hit three consecutive homers. Brady Cox (2nd) added a two run homer to make it four homers in five batters. Chase Chambers doubled to lead off the fifth and Zcox singled him home. Foster's (2nd) three run homer in the seventh gave Liberal a 15-7 lead. Wehby was 4-5 and Foster was 3-5 with seven RBI's.
Giavinoni shrugged off the six run first and did not allow an earned run the rest of the game. Trenton Rousseau pitched the final two innings. Liberal out-hit the Bulls 16-12.
The BJ's are 17-7 and 13-6 in the Jayhawk League. Bethany is 4-15 in leagues. The teams meet tonight at 7 at Bethany while Sunday's game has been moved to 3. The games air on 1270 and Kscbnews.net.
Friday's scores
Derby 1 Hays 0
Haysville 3 El Dorado 1
Wellington 6 Dodge a City 5