BJ's have a Nack for Winning in Haysville
KSCB News - June 10, 2012 9:48 am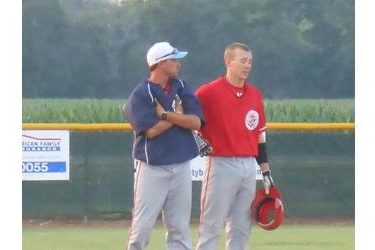 The 2010 NBC champion Liberal BJ's lost all three games at Haysville. The 2012 BJ's are 2-0 at Haysville's Vulcan Field after a 4-1 win Saturday night. Texas-Arlington's Chad Nack pitched three scoreless innings for the win while striking out three. Louisiana Tech's Stephen Gandy provided the offense with a triple, double, and RBI single.
Seward's Keegan Hucul, a UTA signee, started the game and pitched four strong innings allowing one run. Haysville chased home a run in the second before the crafty lefty from St. Albert, Alberta, Canada pitched out of a runner at the corners and no out jam.
Liberal scored the game's first run in the top of the second when Gandy tripled to center and scored on a balk.
The BJ's scored two in the sixth to take the lead when Gandy and Seward's Tanner Rainey singled home runs. Liberal added a run in the seventh when UTA's Travis Sibley doubled and Wichita State's Dayne Parker singled him home.
Northeast Texas Community College right hander Justin Schnedler pitched the final two scoreless innings for the save.
Liberal is 5-2 and 3-2 in the Jayhawk while the Heat fall to 2-6 overall and 0-4 in the Jayhawk.
The same two teams meet Sunday night at 7 p.m. on Talkradio 1270 at Vulcan Field in Haysville.