BJ's Go Boom on Opening Night
KSCB News - July 30, 2011 9:51 pm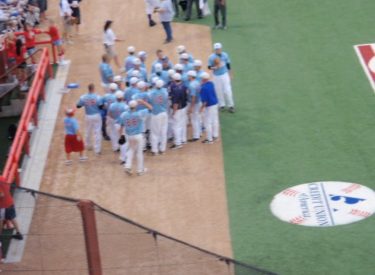 The fireworks which lit up the sky along the banks of the Arkansas River weren't the only resounding boom sound from Wichita Saturday night. The BJ bats provided the "boom" in a 15-0 win in five run-rule shortened innings. Josh Smith (6-2) went all five innings striking out seven and allowing just one hit in the win.
Liberal (31-16) scored five in the first against the Tulsa Titans (13-6) who were the runner-up in the Sooner Collegiate Conference. Blake Bergeron doubled home a first inning run and Reyn Nagamine doubled home two. Micah Green singled home a run.
Liberal added four more in the third. Toby Semler, Ross Kivett, and Eddie Arroyo drove home runs with singles while Ryan Walker added an RBI.
The Bee Jays scored six in the fourth which helped secure the 10 after five run rule. Four runs scored on bases loaded walks. Arroyo added an RBI single.
Nagamine finished 3-3 with two RBI's while Green, Arroyo, and Bergeron drove home two runs a piece. Semler and Arroyo had two hits a piece.
Liberal plays Play Ball Sports Colorado Tuesday night after they beat the Kansas Cannons 6-5 in 12 innings. The game will air on Talkradio 1270.