BJ's Fall Short Friday Night
KSCB News - June 8, 2013 7:43 pm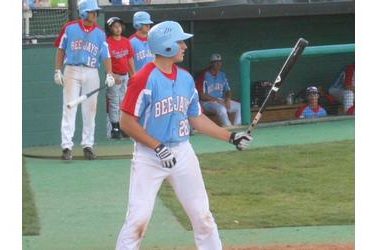 BJs fall short to the Derby Twins Friday night 5-2.
The Liberal Bee Jays fell short on Friday night at Brent Gould Field losing 5-2 to the Derby Twins.
Derby jumped out to a 3-0 lead in the second after a hit by pitch and two walks followed up by a base clearing double. The Twins added two more in the third after two more walk and an extra base hit. The Bee Jays plated two in the seventh with a two run homer. Liberal had the bases loaded in the fifth and ninth innings with two outs and were unable to convert.
The victory gives Derby their first Jayhawk League win of the year. They improve to 2-3 overall and 1-3 in the league. The Bee Jays drop to 5-2 overall and 2-2 in the Jayhawk League.