BJ's Coast to Win Over Outlaws
KSCB News - July 2, 2011 6:52 am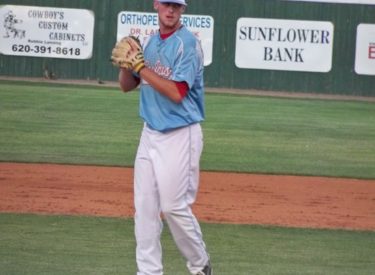 Liberal scored eight in the second inning and coasted to a 9-6 win over the West Texas Outlaws from Amarillo Friday night at Brent Gould Field. Liberal is 20-6 and has won eight of their last nine games.
San Diego knuckleballer Nick Youpel pitched five innings for the win with six strikeouts and one walk. He allowed one earned run. John Woods' Curtis Washburn went one and one-third scoreless innings before Yavapai's Robbie Ingram pitched a perfect ninth for his first save.
Jase Morgan was 2-5 with a three run homer to lead the BJ's offensively. Seward's Jake Barrios was 3-5 while Angelo State's Toby Semler was 3-4 with an RBI. New Mexico's Quay Grant was 2-4 with an RBI. Texas-Arlington's Ryan Walker was 1-4 but drove home two runs.
Liberal returns to Jayhawk League play Saturday night with another trip to Dodge City. The Bee Jays play the A's at Cavalier Field at 7 p.m. on Talkradio 1270 and kscbnews.net.