BJ's Bury Broncos
KSCB News - July 22, 2013 7:25 am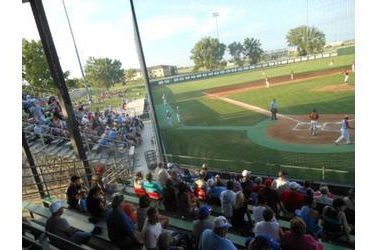 The Liberal BJ's won their weekend series over El Dorado with a 4-2 win Sunday night at Brent Gould Field. The BJ's are 16-17 with one game to go in the Jayhawk League Tuesday night at home against Dodge City.
Tanner Kirk led off the first with a double before Darrien McLemore walked. They scored on a two RBI single by Jon Mestas. El Dorado added a run in the third but McLemore belted his second homer of the season over the right center field wall to lead off the third to make it 3-1 Bee Jays. El Dorado scored in the fifth the Thomas Clay homered to center. The Bee Jays scored insurance after three straight singled with two outs in the fifth by Brady Capshaw, Jon Mestas, and Jason Dahl.
Justin Schnedler (3-3) went six strong innings with six strikeouts and one earned run for the win. Cody Tillotson pitched two scoreless innings and Austin King worked a scoreless ninth for the save.
Liberal is 22-17 overall and 16-17 in the Jayhawk while the Broncos fall to 17-13.
It was fan appreciation night and Tyler Wiedenfeld was named the team MVP and Deedee Luebbers won the Bob Carlile Fan Appreciation Award.
The Bee Jays host Dodge City Tuesday night at 7 on 1270 and kscbnews.net. Little Caesar's is the buyout sponsor.
In the Jayhawk last night, Wellington won in Dodge City 7-6 and Hays held off Derby in Hays 5-4.
Standings
Hays 21-10
Wellington 19-12
El Dorado 17-13
Liberal 16-17
Derby 13-19
Dodge City 8-23