BJ's Build Lead then Fall Apart Against Larks
KSCB News - June 6, 2012 7:00 am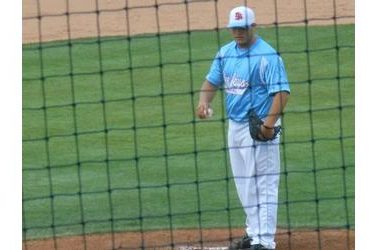 Now the defense is a concern. After a four error game in a 9-4 win at Dodge City Sunday night, the BJ's Monday night practice focused on defense. Unfortunately that didn't carry over. Liberal allowed six unearned runs and two errors in a 10-7 loss to the Hays Larks at Brent Gould Field Tuesday night.
The Bee Jays built a 7-1 lead scoring two in the second and five in the third. But even the fast start was plagued by miscues. Liberal scored two in the second but the inning ended when a BJ was picked off at first only to be caught stealing at second and another runner was thrown out at home trying to score. OCU's John Sigado slugged a homer into the trees and another run scored on a Hays error in the second.
In the third, Louisiana Tech's Stephen Gandy doubled home a run before an RBI single by Wichita State's Tyler Baker. Seward's Tanner Rainey singled home a run. Oklahoma State's Ryan Schilhab added an RBI single.
The 7-1 lead stood until the fourth when Hays scored five unearned runs and scored all six with two outs. After a Hays single made it 7-2, Liberal's shortstop committed an error opening up the inning. Liberal's left fielder also misjudged a ball allowing two more runs to score.
Starting pitcher from Eastern Oklahoma State and a Wichita State signee Blake Logan had quite a day. He was drafted in the 13th round by the Marlins about an hour before making the first pitch in the game. He pitched five innings allowing just two earned runs but allowed 11 Hays hits.
The Larks (5-0, 2-0) scored one in the sixth and two in the ninth while the BJ's mustered only two hits the last six innings.
Liberal is 3-1 and 1-1 in the Jayhawk. They host the Dodge City A's Wednesday night at 7 p.m. on Talkradio 1270 and kscbnews.net. Plains Equity Exchange is the buyout sponsor.