BJ's Absorb Another Loss and Won't Attend NBC
KSCB News - July 23, 2014 7:21 am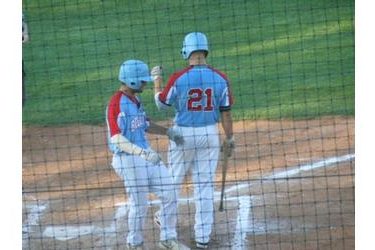 The Liberal Bee Jays officially failed to qualify for the NBC World Series Tuesday night. The team had already determined to sit out the 80th year of the tournament before Tuesday night's game, but the night's proceedings also meant the BJ's wouldn't have qualified anyway. The last place Dodge City A's beat the BJ's 7-3 at Brent Gould Field. Liberal finishes their season outside of the NBC for the first time since 2007 when they were 22-24 in the Jayhawk.
Dodge City scored one in the first and one in the second against starter Robert Dugger. Liberal tied it in the third when Alec Isaac hammered his sixth homer over the left field wall and Mike Rampone walked with the bases loaded. The Bee Jays took a 3-2 lead in the fourth when Tanner Vandevere homered to left center for his second of the year. DC tiekd it in the fifth and tacked on two in the eighth against reliever Zach Thompson and added two more in the ninth against reliever Chad Nack.
Dugger pitched six innings allowing three runs but just two earned runs in a no decision. Dodge City out-hit the BJ's 14-7. The BJ's committed three more errors making it 13 errors in their past three games.
Before the game JB Olson was named the team's Player of the Year. He is 3-3 with a 2.85 ERA with 36 K's and 4 walks. Nancy Parsons won the team's Fan Appreciation Award.
Liberal is 18-21 and 12-21 in the Jayhawk. They have lost eight of their last 10 and four straight. Dodge City is 18-22 and 10-22 in the Jayhawk. The teams play their last regular season game Wednesday night at 7 at Dodge City's Cavalier Field on 1270 and kscbnews.net.
El Dorado beat Derby 13-11 in Derby. Derby and El Dorado play in the first 16 play in round of the NBC World Series. Wellington and Hays will play in the NBC's Championship Week.
Wellington 27-5
Hays 20-13
Derby 15-17
El Dorado 14-20
Liberal 12-21
Dodge City 10-22