BJ Pitching Too Much for Dirtbags
Brock Kappelmann - June 22, 2021 9:40 pm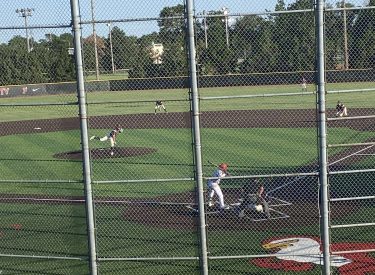 With wind gusts of up to 35 miles per hour blowing in, it was a good night to pitch.  But the Liberal Bee Jay arms didn't need much help from Mother Nature in a 5-1 win over the Wichita Dirtbags at Westside Athletic Field in Wichita.  Three BJ pitchers combined to allow one run on five hits.
The Dirtbags scored first with a run in the second.  Liberal jumped on Dirtbag pitching for four in the third.  Quintt Landis ripped a  lead off double to left center.  AJ Folds roped an RBI double to nearly the same spot in left center.  Wyatt Grant reached on an error to score a run.  Scott Anderson creamed an RBI double off the fence in left.  Ryan Proctor hit a sacrifice fly for the 4-1 lead.  Liberal added a run in the seventh.  Proctor singled and Aidan Shepardson doubled down the left field line.  Tyler Boggs hit a sac fly for the 5-1 lead.
Liberal out hit Wichita 10-5.  AJ Folds was 3-5 with two doubles.  Ethan Swanson pitched five strong innings with six strikeouts.  Cole Hillier went three scoreless with three strikeouts and no walks.  Jack Chester worked a perfect ninth with two strikeouts.
The Bee Jays are 11-1 overall and 6-0 in the Jayhawk Division of the Kansas Collegiate League.  The Dirtbags are 3-11 overall and 1-7 in the Jayhawk Division of the KCLB.  Liberal plays at the Kansas Cannons Wednesday night at 7.  The next raisin broadcast is Thursday night in Valley Center at 7.