BJ Pitcher Drafted Shortly Before Tuesday's Game
KSCB News - June 6, 2012 4:00 pm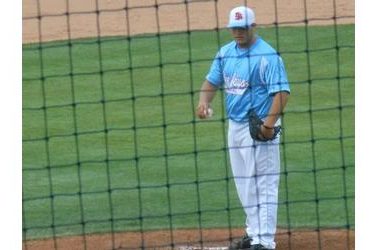 Liberal Bee Jay starting pitcher Blake Logan had quite a day. The 6′ 200 pound right hander from Roff, Oklahoma and Eastern Oklahoma State was drafted in the 13th round by the Miami Marlins about one hour before pitching against Hays. The Wichita State signee pitched five innings for the BJ's.
Wednesday BJ left hander Brad Wieck was selected by the Phillies in the 29th round. Wieck is a 6'9" lefty from Frank Phillips and Canyon, Texas.
Former BJ Josh Smith was selected in the 25th round by the Pirates. The Wichita State southpaw was 6-2 for the BJ's last summer with a 3.50 ERA.