BJ Bats Fall Silent in NBC Opener
Brock Kappelmann - August 3, 2019 9:53 am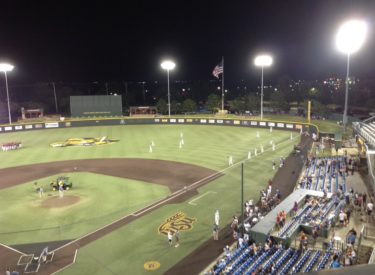 The Liberal Bee Jays struck out 12 times in a 4-1 loss to the San Diego Stars at their opening game of the 85th NBC World Series Friday night at Eck Stadium in Wichita.  Liberal will continue pool play Sunday at 1:30 against the Derby Twins.
The Bee Jays were solid on the mound as Payton Strambler went five innings allowing two runs. Garret Bonnet worked three shutout innings and Jake Reed went 2/3 scoreless.
But facing a 33 year old San Diego pitcher Jonathan Sintes, Liberal just couldn't string enough offense together.  The Bee Jays did score first. Shane Sirdashney was beaned and stole second.  He scored on Colton Moore's two out single to left in the second.  San Diego scored two in the fifth buoyed by Liberal playingva hard ground ball to left from a single to a triple when the ball rolled to the fence.  The Stars plated two more in the top of the ninth for insurance when Liberal walked two, beaned two, tossed a wild pitch, and dropped a pitch for a passed ball.  The hits were even 6-6 for he game.
The Bee Jays continue their recent struggles at the NBC.  They have lost six of the past seven at the event.  They are also 1-6 in championship week since their third place finish in 2015.
Liberal is 28-13 and the Stars, champs of the Western Baseball Association,  are 26-3.  Liberal plays their old Jayhawk League opponent the Derby Twins Sunday afternoon at 1:30 with the Dugout Show at 1:15 on 1270 and kscbnews.net.  Derby lost 3-1 to Lonestar Baseball.