Big Second Half Leads Seward Past On Point
KSCB News - November 1, 2015 7:48 am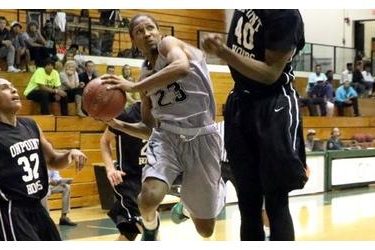 On Halloween night 2015, the Seward County Saints had more tricks played on them than treats in the first half of their game with On Point Prep Academy out of Oklahoma City as the Prepsters had the Saints tied at 33 at the half in the Greenhouse. The Saints finally figured things out in the second half, scoring 51 points to eventually put away On Point 84-64 to improve to 2-0 in the early going.
After bursting out to a 25-3 lead to begin their season opener against a veteran Fort Carson team on Friday, the Saints had much different results on Saturday as they took on a youthful On Point Prep team, falling behind 6-0 and 8-1 to begin the contest. Seward finally got their first field goal of the game 4:16 into things and used it to start a 16-0 run led by Niem Stevenson to take a 17-8 lead with 10:35 to go in the half. Seward remained up nine after a basket from Delwin Young with 8:22 to go but a 6-0 burst from On Point cut the Saints lead to one possession and by the halftime break, they had things all tied up at 33.
For the second straight night, Stevenson had a huge first half for the Saints, despite battling a stomach bug most of the day Saturday. Stevenson had 21 of the Saints 33 first half points, going 9 of 14 from the field while the rest of the Seward lineup was just 5-21 with 12 points.
Following a spirited locker room talk from Head Coach Bryan Zollinger, the Saints responded with a solid start to the second half, again building a double digit lead to 47-37 five minutes into the action. Eight Marcus Mathieu points in a five minute span had the Saints up 15 at the second half media timeout and they took their largest lead of the night at 77-51 as Mitchell Packard and Kris Williams scored on back to back plays with 3:24 remaining. In a contest that featured 52 fouls and over 2:00 to play, the teams marched back and forth to the free throw line for the final three minutes before finally Seward outlasted the Prepsters 84-64 to pick up their second win of the season.
Stevenson led the Saints with 24 points and 10 rebounds in the ballgame while Mathieu came on in the second half to finish with 17 for Seward. Williams also reached double figures with 11 for the Saints while Delano Jones turned in his second straight strong performance with eight points and eight rebounds.
Seward finishes their opening weekend 2-0 while On Point drops both of their contests in the Pepsi Classic. Next up for Seward will be a return to the Greenhouse Friday night in Liberal when they host Peterson Air Force Base at 8:00 in the Pizza Hut Classic.
SEWARD COUNTY/ON POINT PREP BOX SCORE<http://www.sewardsaints.com/sports/mbkb/2015-16/boxscores/20151031_yy45.xml?view=boxscore>
Roy Allen