Big 12 Championship Trophy in Liberal Tuesday
Brock Kappelmann - December 20, 2022 2:15 pm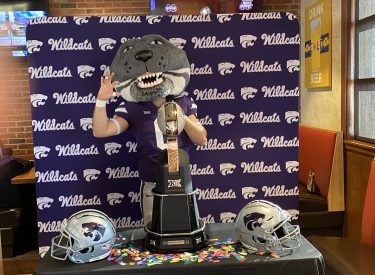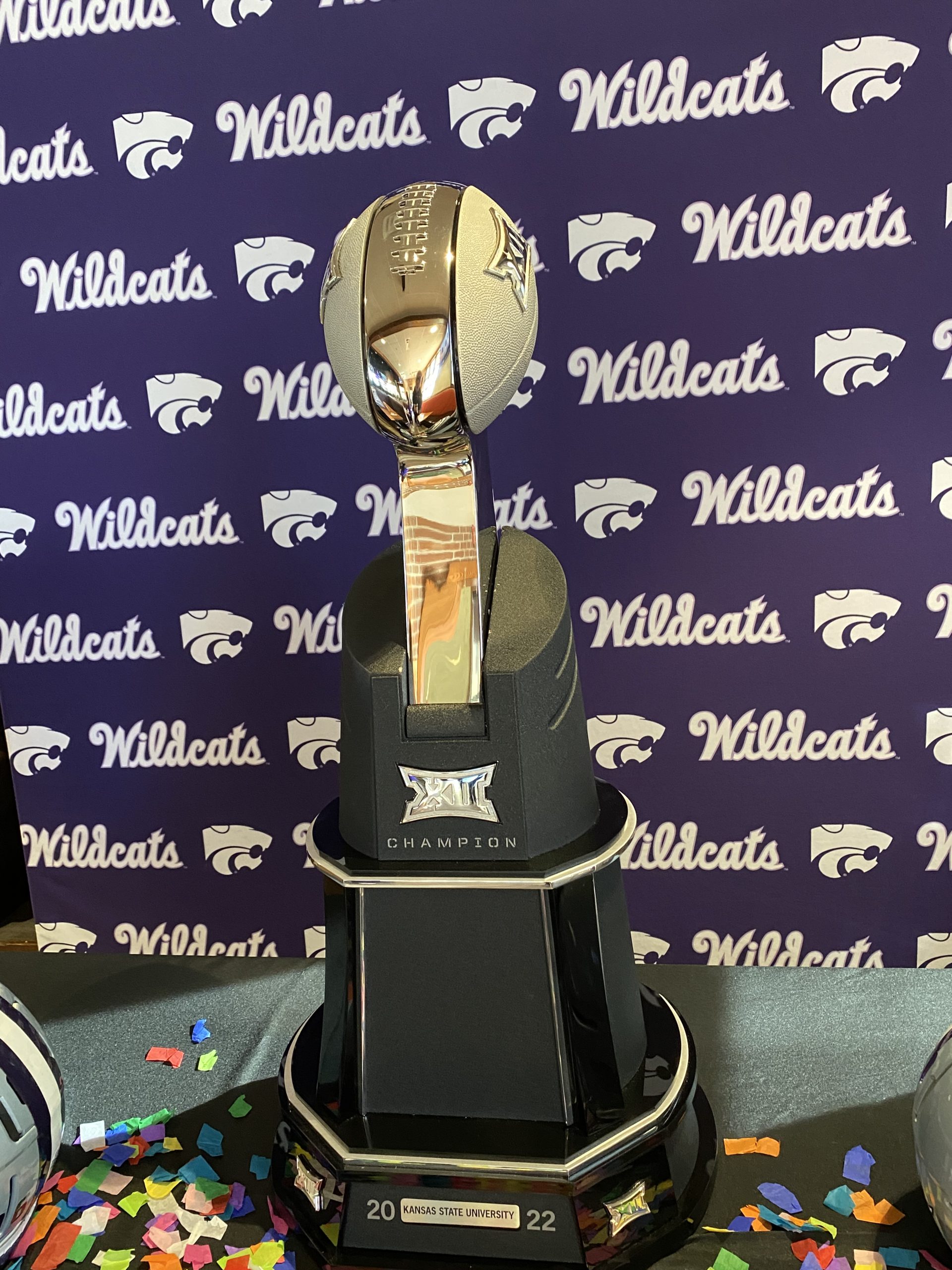 The Big 12 championship trophy and Kansas State University mascot Willie the Wildcat made a stop in Liberal Tuesday afternoon.  The trophy was displayed at Old Chicago in Liberal from 12-2 Tuesday.  K-State fans ventured to the restaurant and some posed for pictures with Willie and the trophy.  Here is the K-State media release about the trophy tour.
The trophy will make 19 stops visiting select K-State Catbacker Clubs between December 14-20. Fans are encouraged to share photos on social media using the hashtag #EMAW.
Wednesday, Dec. 14
7-9 a.m.                   Great Bend – Marmie Ford, 1815 10th Street
11 a.m.-1 p.m.      Hutchinson – AJ's at the Alley, 1221 E 23rd Ave
2:30-4:30 p.m.      Wichita – Emerson Biggins Sports Bar & Grill, 808 E Douglas Ave
6:30-8:30 p.m.      Emporia – Emporia Fitness, 2812 W 12th Ave
Thursday, Dec. 15
8-10 a.m.                Manhattan – Hy-Vee, 601 N 3rd Pl
1-3 p.m.                  Manhattan – K-State Super Store, 520 McCall Road
4-6 p.m.                  Manhattan – Dillons Westloop Shopping Center, 1101 Westloop Pl
Friday, Dec. 16
9-11 a.m.                Concordia – Concordia Golf and Wellness, 1300 Willow St
1-3 p.m.                  Marysville – Pepsi Cola Bottling of Marysville, 604 Center St
5:30-7:30 p.m.      Atchison – Willie's Sports Bar, 701 Commercial St
Saturday, Dec. 17
9-11 a.m.                Chanute – Bank of Commerce, 101W Main St
1:30-3:30 p.m.      Topeka – The Pennant, 915 S Kansas Ave
5-8 p.m.                  Kansas City – T-Mobile Center, 1407 Grand Blvd – K-State Men's Basketball vs. Nebraska
Monday, Dec. 19
8-10 a.m.                Salina – Long McArthur Ford, 3450 S 9th St
12:30-2:30 p.m.   Hays – Hays Chevrolet, 2917 Vine St
5-7 p.m.                  Colby – Meadow Lake Golf Course, 1085 E Golf Club Dr
Tuesday, Dec. 20
8-10 a.m.                Garden City – Southwind Golf and Dining, 77 Grandview Dr
12-2 p.m.                Liberal – Old Chicago, 2867 Centennial Blvd
4-6 p.m.                  Dodge City – Boot Hill Distillery, 501 W Spruce St
Kansas State earned its fourth conference championship in school history and the third in the Big 12 era with a 31-28 overtime victory over TCU in the 2022 Dr. Pepper Big 12 Championship on December 3.
The ninth-ranked Wildcats earned a bid into the 89th annual Allstate Sugar Bowl and will face No. 5 Alabama on Saturday, December 31, inside Caesars Superdome in New Orleans, Louisiana. Tickets in the official K-State sections are available online at www.kstatesports.com/bowlgame.