Better Numbers Help Southwestern Heights
Brock Kappelmann - August 21, 2019 1:41 pm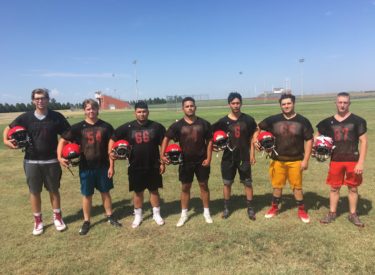 Ninth graders are an important part of any high school football program.  They are the future and development of this group is paramount for any team.  But at Southwestern Heights, the goal is to keep many of the ninth graders on the sideline on Friday nights.  Southwestern Heights has 34 out for football, about 10 more than last year for second year head coach Matt Bell.  The hope is for the freshmen to play primarily sub varsity as the upper classmen slug it out on Friday nights.
The Mustangs were 2-7 last year but won two of their last three.  They were a triple overtime loss at Sterling away from winning three of the last four.  The Mustangs have seven starters back on both sides of the ball.
Some of the key Southwestern Heights players are Sr. RB/LB Demetrio Flores, Sr. OL/DL Steve Diaz, Sr. De Juan Torres, Sr. C/DT Valick Sorter, Sr. OL/DL/P Neeley Nichols, Sr. WR/RB, S Elian Puentes, JR. QB/CB Hever Mercado, and So.l Mimmo Flores.
Southwestern Heights was featured during the Wednesday morning edition of Sportsguys.
Schedule
September 6-  at Syracuse
September 13- at Elkhart
September 20- Meade (102.7)
September 27- Cimarron (102.7)
October 4- at Lakin
October 11- Lyons
October 18- at Ellinwood
October 25- Sterling
November 1- Playoffs