Better Effort but Same Result for Liberal
Brock Kappelmann - February 19, 2023 10:29 am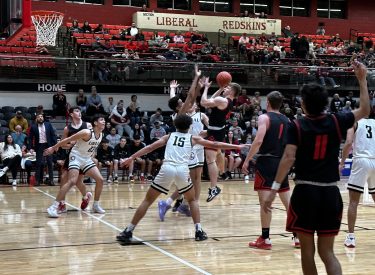 The Liberal boys basketball team played one of their better games of the season Saturday night on homecoming night in the Big House.  The Redskins were competitive trailing by just five at the half against the Great Bend Panthers.  But the Panthers ran away with a 74-56 win over the Redskins as Liberal loses for the 15th consecutive time.
Great Bend jumped out 16-6 but the Redskins got it to 16-15 after one quarter.  LHS trailed 28-27 in the second quarter and trailed 39-34 at halftime.  It was 40-14 Panthers at halftime when the teams met on February 3 at Great Bend.  The Panthers led 54-43 after three and out scored Liberal 20-13 in the fourth quarter.
Izzy Rotolo scored 19 in the loss and was Epic Touch Player of the Game.  Zayden Martinez had 10 points and 11 rebounds.  James Fieser scored 11.
Liberal is 2-16 overall and 0-6 in the WAC and GBHS is 11-8 and 5-2 in the WAC.  Liberal hosts WAC champ Garden City Tuesday night at about 7:45 on 1270 and 92.3.