Best of Rainbow Players to take Stage at SCCC
Joe Denoyer - June 30, 2021 10:07 am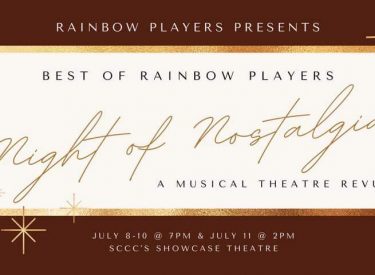 Rainbow Players is excited to be back!  Rainbow Players is back with with a night of nostalgia and fun. This summer, Rainbow Players are presenting "Best of Rainbow Players: A Night of Nostalgia", a musical theatre revue. Join your friends for a musical concert-style evening, showcasing songs from past Rainbow Players productions from their 30+ year history as they look forward to the next 30 years of providing theatre to Southwest Kansas.
This fun event will take place at the SCCC Showcase Theatre July 8-10 @ 7 p.m., and July 11 @ 2 p.m.
The cost for each performance is FREE, but there is a $5 suggested donation.
The theatre will be capped at 150 person capacity please call 620-655-5934 to reserve your seat.