Besecker is Jayhawk Coach of the Year
Brock Kappelmann - November 13, 2023 6:26 am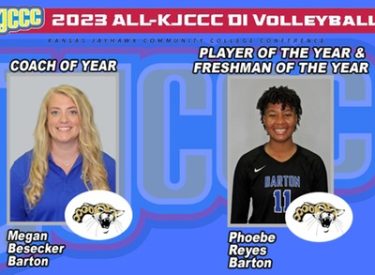 KJCCC
Nominated and voted upon by league coaches, the 2023 Division I Volleyball post-season selections feature Phoebe Reyes of Barton earning both Most Valuable Player and Freshman of the Year, along with Barton's Megan Besecker as Coach of the Year. Full list of KJCCC Division I All-Conference – click here
Most Valuable Player and Freshman of the Year
Barton's Phoebe Reyes is named not just the Freshman of the Year, but the Most Valuable Player after helping to lead Barton to its first league title since 2011.  The freshman out of the Dominican Republic ranked 4th in kills per set (3.46) and attack percentage (.275) in three rotations of the Cougars' 6-2 offensive set and posted double-digit kills in 20 of Barton's 31 matches including fourteen of those coming against conference opponents.
Coach of the Year
Liberal native Megan Besecker is named the 2023 Coach of the Year after leading Barton to the KJCCC regular season title.  Picked 8th in the pre-season coaches poll, Besecker led a squad with no returning starters and a limited amount of sophomores in guiding the young Cougars to Barton's first league title since 2011. Concluding the conference slate at 13-3 and a two game cushion of the lead, Besecker's squad won twelve straight KJCCC matches including seven in straight sets.  The team's bid to add a Region/District fell short in the semifinals to conclude the season at 25-6.
2023 KJCCC DI Volleyball All-Conference
First Team
Phoebe Reyes (Barton); Celia Mbaya (Colby); Sydney Lentz (Butler); Taniya Golden (Hutchinson); Kassidy Nixon (Barton); Anna Dean (Hutchinson); Anna Wierzbicki (Barton); Lily Pichon (Colby); Vitoria Stedile (Garden City); Anja Milosevic (Butler)
Second Team
Giovanna Ravanhani (Hutchinson); Leisey Keli'i (Dodge City); Anna Gazzerro (Colby); Doga Eski (Cloud County); Clara Lindstrom (Barton); Jelena Milovanovic (Garden City); Raven Boone (Butler); Rafaela DaSilva (Seward County); Maria Motta (Butler); Tess De Zanet (Dodge City)
Honorable Mention
Tola Maczka (Garden City); Pinar Dugeroglu (Garden City); McKenzie Murphy (Hutchinson); Madison Ronnebaum (Cloud County); Elena Stankovic (Barton); Ilaria Chiericati (Colby); Sierra Scanlan (Dodge City); Mya Thompson (Barton); Rylie Hallman (Pratt); Katelynn Brogan (Cloud County); Apolline Lepuissant (Garden City); Bradie Medina (Cloud County); Alejandra Briseno (Hutchinson); Alyssa Hunter (Pratt); Emery May (Cloud County)