Besecker Comes Back to Kansas to Coach at Barton
Joe Denoyer - February 28, 2023 10:42 pm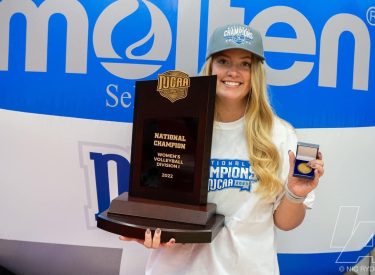 Approved by the Barton Community College Board of Trustees on Tuesday, Megan Besecker and Sabrina Boyd have been added to the Barton Athletic staff.
Besecker fills the vacancy of Head Volleyball Coach while Boyd takes over the Barton Dance Line team.
A Liberal, Kansas, native, Besecker becomes the 16th coach in program history by filling the vacancy following Alan Segal's departure to NCAA Division I San Jose State University.
A former player at Garden City Community College and Tougaloo College (MS), Besecker entered the coaching ranks as Head Coach at Liberal High School before moving up to the college ranks as an assistant at NCAA Division II Emporia State University.
Most recently Besecker served as an assistant coach for the 2022 NJCAA Division I Volleyball National Champion Buccaneers of Florida Southwestern State College under Thais Baziquetto-Allen, her former high school coach who then guided Seward County Community College for three seasons prior to FSW.
"Megan's vast coaching experiences at the high school, club, community college, and NCAA levels, have prepared her well for her first ever head collegiate coaching opportunity," Barton Athletic Director Trevor Rolfs said. "Growing up in Kansas and competing at a conference school, Coach Besecker is well aware of KJCCC history in the sport of volleyball. We are extremely excited to have her on staff, and look forward to her positive energy leading to tremendous success for Barton Volleyball."
Boyd returns to Barton in taking over a program she danced for during the 2014-17 seasons before continuing her talents at Kansas State University on the prestigious "Classy Cats" dance team.
Connected to the dance industry for many years, the Abilene, Kansas, native will work alongside Cheer Head Coach Amanda Schnoebelen in helping the Athletic Department and Cougar Athletics expand its reach and impact on the College community.
"Growing up in Abilene, Kansas, combined with her community college experience here at Barton, and university roots in the state, make Sabrina a great fit to lead the Barton Dance program," said Rolfs. "She has periodically assisted Coach Schnoebelen with big events and performances since graduating from Barton so I'm excited of the possibilities, and the future of both the dance and cheer programs with Sabrina on staff."