Berberich, Boisvert, and Didier Sign
Brock Kappelmann - June 2, 2021 1:16 pm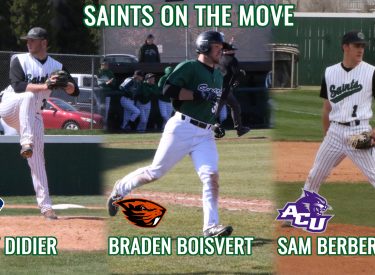 Kenny Hernandez
LIBERAL, Kan. – The Seward County Community College Baseball team announces that Braden Boisvert, Corey Didier, and Sam Berberich have signed on to four-year universities. Boisvert has signed on to continue his baseball and academic careers at Oregon State University. Corey Didier has signed on to continue his academics and baseball career at Texas Weslynn University. Sam Berberich has signed on to attend and compete for Abilene Christian University.
This past season Boisvert was the starting first baseman and the number four-hitter for the Saints. He had a .363 batting average (BA), 15 home runs (HR) which are second-most on the team, and had 62 RBIs. Boisvert has also pitched in 11 games with three wins and two saves this past season. He will be attending Oregon State University in Corvallis, Oregon, and will have three years to compete at the NCAA level.
Corey Didier has been with Seward County for three seasons and had a great career with the Saints. Didier a left-handed pitcher has been vital to the Saints in relief and appeared in 16 games with two wins, a 4.63 ERA, and 55 strikeouts. During his three years, Didier posted 5.56 ERA, with 92.1 innings pitched, with a total of 94 strikeouts. Didier is headed to Fort Worth, Texas to join the Rams baseball team.
Sam Berberich has spent the past two season with the Saints and is a utility player that found his role as a starting pitcher. The right-hander started in 11 games this season and had six wins with a 6.85 ERA. Berberich also led the team in BA with .415 in 41 plate appearances and had nine RBIs. He will be headed to Abilene Christian University in Abilene, Texas, and will bring his versatility to the lineup.
These three played vital roles in the Saints' success this past season and Seward County will look to fill those roles. The Saints ended their season in the semifinals of the Sub-Regional tournament at Brent Gould Field.