Beltran hired as Head Men's Soccer Coach at SCCC
Joe Denoyer - February 3, 2023 10:57 am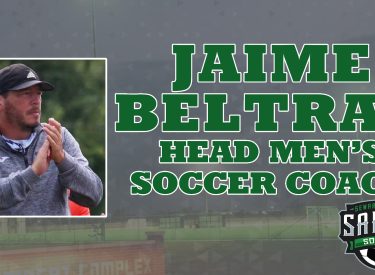 LIBERAL, Kan. – Seward County Community College is excited to announce Jaime Beltran as the Saints' inaugural Head Men's Soccer Coach. The Saints will start the program in the fall of 2023, and Beltran will guide the program in its first season and will set the foundation for the program. Beltran was previously the Head Soccer Coach for both the men's and women's teams at State Fair Community College since 2017.
When asked about what this opportunity means to you, Beltran stated, "It is the chance to create a legacy and hopefully have a positive effect in the lives of the young men that will come through our program while competing at a high level in the sport that both they and I are passionate about."
Under Beltran, the Lady Roadrunners had their best season in program history in the spring of 2021, finishing 7-4 in the regular season. The program achieved the most wins in a season, the most goals in a game, and the highest national ranking. The Lady Roadrunners advanced to the Region 16 Tournament Semifinal round during that season.
Before State Fair, Beltran was the Head Men's and Women's Soccer Coach at Ranger College (2011-2016), and the Head Men's Soccer Coach at the University of the Southwest (2008-2010). While at Ranger, he led the men's soccer team to the program's first Region V Championship in 2013 and earned a trip to the NJCAA National Tournament.
Beltran discussed his focus with a new program, "The main focus will be on identifying and recruiting the right people to bring on board in order to set a high standard of excellence on the field, in the classroom, and in the community at large."
"I am looking forward to a long list of "firsts"; the first day on campus, first signing, first match, first win, etc.," Beltran stated.
The Saints will start the season this fall with the first conference game scheduled for August 23rd at home against Kansas City Kansas Community College.
Seward County has worked with USD 480 and will play their home games at Redskin Field located at Liberal High School.
We welcome Coach Beltran to the Liberal community and look forward to the start of Seward County men's soccer. For more information of questions, please reach out to Seward County Athletics (620) 417-1551.