Bell Wants People to Know the Name Southwestern Heights
Brock Kappelmann - August 16, 2018 10:59 am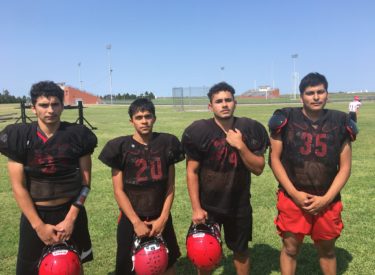 It's been a while since the Southwestern Heights Mustangs have been a player in their classification in high school football.  The Mustangs last had a playoff season and a winning season in 2007.  Matt Bell is the new head coach at Heights.  He has been there as an assistant the past three years after a three year stint as head coach at Fowler.  Bell says his long term goal for the program is for people to change their perception of the Mustangs.  So people know who Southwestern Heights is and know they have a good program there.  But first thing's first on the plains of  Western Kansas, Bell says a goal of making the playoffs is attainable. SWH is a 2A school now and is in a six team district.  The top four teams in the district make the playoffs.  the Mustangs have 27 out for football with six starters back on offense and five back on defense.  Bell says there will be new schemes on offense and defense to utilize the team speed the Mustangs possess.
Some of the key Mustangs are Sr. QB/SLB Efrin Mercado, Jr. HB/MLB Demetrio Flores, Sr. Rb/OLB Jaziel Martinez, and Sr. WR/LB Juan Garcia.  SWH has only three seniors but has a solid seven member junior class.
The Mustangs were featured during the Sportsguys on Thursday morning.
Schedule
August 31- Syracuse
September 7- Elkhart (102.7 and kscbnews.net).
September 14- at Meade (102.7 and kscbnews.net)
September 21- at Cimarron
September 28- Lakin
October 5- at Lyons
October 12- Ellinwood
October 19- at Sterling