Before taking the OSU job, Littell had to get one person's blessing
KSCB News - December 22, 2011 1:31 pm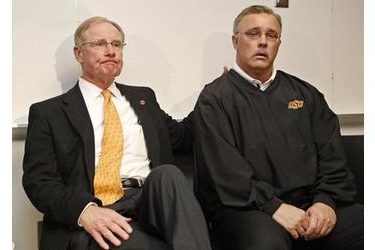 By JIMMIE TRAMEL World Sports Writer
STILLWATER – The job is yours, if you want it.
But Jim Littell couldn't take it. Not until he met with one of his former players.
Littell was elevated to interim head coach of the Oklahoma State women's basketball team after a Nov. 17 plane crash killed head coach Kurt Budke, assistant coach Miranda Serna and boosters Olin and Paula Branstetter.
During tearful days that followed, Littell was a "rock" for the Cowgirl program and the community, according to athletic director Mike Holder, though Littell wants to share that credit with others.
Regardless, it became apparent to OSU officials that Littell, who spent the previous six seasons as Budke's right-hand man, wasn't just the right man for the interim job. He was the right man for the job, period.
Littell knew what he had to do before accepting. He met Shelley Balthazor for lunch.
Balthazor played for Littell at Friends University in Kansas. He sought her blessing before taking Budke's old job.
Why was that necessary?
"It was the right thing to do," he said.
"And, when you love people, you want them to be all right with your decisions."
The rest of the story: Balthazor is Shelley's maiden name. Her last name has been Budke since marrying Kurt.
"Jim was classy enough to come to me and to ask for my permission," Shelley said.
"That shows what kind of guy he is."
Family tradition
OSU's newest women's head basketball coach comes from a coaching family. A lot of coaches can say that, but Littell's story is different.
Littell grew up in tiny Burden, Kan. Family life revolved around going to ball games. He knew he wanted to be a coach before he was a three-sport high school athlete.
Dad was a barber. Mom was a homemaker. Both parents enrolled in college when they were in their 40s so they could become coaches.
"There was one year where my mom, my dad, myself and my sister all coached against each other," Littell said.
Littell's team beat his mother's team so badly (he thinks it was in a junior high game) that he said he wasn't invited home for Christmas.
"She was a competitor," Littell said. "She was mad."
Mom eventually relented and lifted the Christmas ban.
Littell started his career in Burlingame, Kan., where he helped coach multiple high school and junior high teams and drove a bus. "I made $10,500 and thought I was on top of the world," he said.
In 1981, Littell coached a state title team at Oxford, Kan. Three years later, he became the women's basketball coach at Friends University.
Friends University was perfectly named. It's where Littell met the man who became his best friend and the best man at his wedding.
The pact
Kurt Budke was a men's assistant basketball coach at Friends University. He made $1,000 a year and supplemented his income by waking up in the wee hours to unload UPS trucks, Littell said.
"We lived together for probably three or four years there," he said. "It was a lot of fun. Back then, he didn't have any money, so when we would go out to eat, he would have those alligator arms (and say) 'Here, let me get this (check).' After that, he has taken care of me."
At a memorial service for the plane crash victims, Littell shared a tale about asking Budke to evaluate a recruit. Budke wasn't sure the recruit was good enough. Her name was Shelley Balthazor. Littell signed her anyway – and she proved good enough for both of them.
Balthazor can't help but smile when she thinks about the "man cave" where Budke and Littell once lived.
"Their house was set up like SportsCenter," she said. "The TV was the main focus point and then there was the couch and then they had a couch up on milk crates that was the upper deck."
Littell said he and Budke "hit it off" even though Budke monopolized the quarterback position during their intramural football games. They had so much fun that they entered into a pact: If either was destined to become a Division I coach, they would be a package deal.
"If it was Jim, he was going to take Kurt," Shelley said. "And if it was Kurt, he was going to take Jim."
No road map
Littell joined Budke at Oklahoma State when Budke left Louisiana Tech for OSU in 2005.
Before the terms of their pact were fulfilled, Littell won enough games at the junior college level to merit induction in the NJCAA Hall of Fame. He posted a 418-61 record at Seward County (Kan.) and was 189-2 in home games. He credits great players and great support.
In 2002, Littell guided Seward County to a 38-0 season and the school's first national championship in any sport. It was especially sweet because of what transpired the previous two seasons.
In 2000 and 2001, Seward roared to 33-0 starts and took a No. 1 national ranking into postseason. Both times, the Lady Saints got upset at the regional level of the playoffs.
"We had a stretch where we were 104-2 and only went to one national tournament," Littell said.
The defeats caused Littell to tweak his coaching philosophy. He had been a staunch believer in playing only man-to-man defense. But foul trouble contributed to the crushing postseason losses.
"I decided I was not going to be as stubborn," he said. "We were going to play some matchup zone and do some things to keep our best players on the floor and give us a chance to win."
Nothing in Littell's coaching past could prepare him for his current challenge. He's charged with the responsibility of leading a program through its darkest hour.
"There is no road map," he said. "There is no book you can read to help you through this."
Littell said he sees "little victories" from his players every day.
Has enough time passed that the Cowgirls can conduct a tear-free practice? Perhaps. "But there are things that will trigger myself and trigger these girls," he said.
"Coach and I were around each other so long. I will say something and they will give me a look of 'That's something Coach used to say.' It will trigger some reflection out of them, if not tears.
"Coach Bukde and Coach Serna were loved by these kids and they knew they could go in and talk to them at any time. This isn't going to be something that goes away in a day, a week, a month. There is always going to be some reflection by the people that are here. We said they will never be forgotten, and they never will be forgotten."
Littell's son, Jerame, is a quarterback at Stillwater High School. Littell and Budke cherished talking about the successes of their children. When Jerame was named MVP of District 6A-4, Littell wanted to pick up the phone and tell Budke. Reality set in. Said Littell in a somber tone, "I couldn't call him."
Bad cop, good guy
Littell said he is blessed with players who accept him for who he is. He and Budke are different. That's what made them good together.
"Coach was more of a players' coach and he was a feel-good guy that everybody who was around him walked away feeling better," Littell said.
"I'm a little more on the intense side. We had a little bit of good cop-bad cop thing going on for six years here."
Shelley wants people to know the bad cop is a good guy who loves his players and will do anything for them. She told a story about basketball shoes being delivered to her Friends University squad.
"At that time, I had a really little foot and the shoes did not fit me right," she said. "He picked me up and he took me out to the mall and let me pick out my own shoes because he was that way. He goes the extra mile."
Shelley said it was Littell's belief in her that "made me what I was as a player, because I was a short probably overweight little chick that didn't have much talent and he had a way of bringing out the best in each player."
Littell owes it to his players to coach them hard. But he finds himself trying to find the right touch because everyone is still fragile.
"I find there are times that I think I should be yelling at them that I back off," he said.
In the first half of the still-unbeaten Cowgirls' most recent game, Littell rarely got more animated than standing and crossing his arms. Then Texas-Pan American scored five consecutive points. Littell called timeout with 4:40 left before halftime. He got after the Cowgirls in a huddle. And they didn't allow a point the rest of the half.
After the game, junior forward Lindsey Keller was asked about her new head coach and said, "That's really hard to lose your best friend. They had been together for a long time. For him to step up and coach, that means a lot to him and our program. I feel like he is going to be a great head coach and we'll just see how this season goes."
Still a package deal
Is there anybody Shelley would rather see coaching this Cowgirl basketball team?
"No way," she said. "There is no doubt in my mind Jim is the best man for the job and that's who Coach (Kurt) would want it to be and that's who I would want."
It meant something to Littell when Shelley ("a special lady") gave her blessing for him to take the job. She said it was the right move for Littell and the right move for OSU.
But the who-should-be-coach topic was still a difficult one for Shelley because it was a step in "moving on." She knows everyone has to keep moving on, but that's easier said than done when you lose your husband. And that's another reason Littell felt it was important to meet with Shelley. Is this all happening too soon?
OSU issued a Dec. 9 press release to announce that the word "interim" was being removed from Littell's title. In the release, Littell spoke about continuing Budke's vision for the program.
Here's what you should read into that: Littell and Budke entered into a long-ago pact to do this together. That's still the plan.
Read more from this Tulsa World article at http://www.tulsaworld.com/sportsextra/OSU/article.aspx?subjectid=93&articleid=20111222_93_B1_CUTLIN867901