Bee Jays Wrap Up Rocky Mountain with a Split
Brock Kappelmann - July 19, 2023 11:17 pm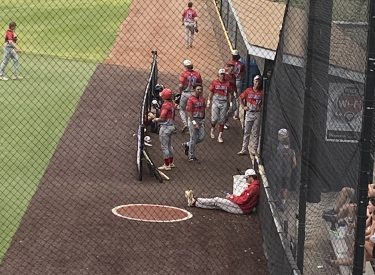 The Liberal Bee Jays wrapped up their Rocky Mountain Baseball League season with a split at Hays against the Larks Wednesday night at Larks Park.  The Larks dominated game one 12-3 and Liberal took game two 5-0.
In game one, the B.J.'s scored three in the first.  Isaac Webb singled and stole second.  Walker Polk singled him home.  Ethan Calder walked with the bases loaded and River Jackson was hit by a pitch with the bases loaded.  After Adrian Najar worked a scoreless first and second, the Larks scored two in the third, one in the fourth, one in the fifth, six in the sixth, and two in the seventh.  The Larks were the visiting team.  Hays out-hit Liberal 11-5.  Hays had three errors while the Bee Jays committed six errors.  Adrian Najar was the Epic Touch Player of the Game going five innings allowing four runs with four strikeouts and two walks.
In game two, Jackson Berry spun a gem.  He allowed three hits in the shutout win.  The game was called short due to a thunderstorm with one out in the bottom of the sixth inning of a seven inning game.  The Bee Jays scored three in the third.  Owen May reached on an error.  Mateo Garcia whistled a double off the wall in right.  Ethan Calder grounded out to score a run.  River Jackson delivered a clutch two RBI double down the left field line.  Liberal scored two more in the sixth on two errors and a Luke Rhee hit.  Jackson Berry was the Epic Touch Player of the Game going all 5 and 1/3 innings with six strikeouts.  Liberal played errorless baseball while Hays had three errors.
Liberal is 22-10 overall and 15-7 in the RMBL with two forfeited wins in league which were scheduled for the weekend for a 17-7 league record.  Hays is 28-6 overall and and 17-4 in the RMBL.  Hays needs one win in their three game series with the Gameday Angels to win the league outright.  Liberal plays a non league game at Dodge City Thursday night at 7pm.