Bee Jays Wrap Up Road Trip with 15th Straight Win
Brock Kappelmann - July 16, 2022 12:14 am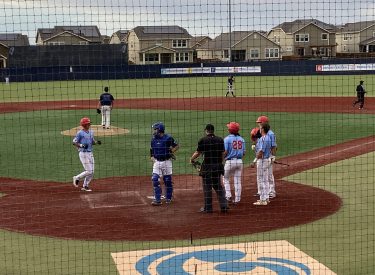 The Liberal Bee Jays finish 5-0 on their Colorado road trip and win their 15th straight game with a 9-4 win over the Gameday Angels Friday night at Double Angel Park.  Liberal finishes 9-0 in Colorado during their first year in the Rocky Mountain Basell League.
The Angels scored two in the first on two hits and one BJ error.  Liberal plated six in the second on a pair of three run homers.  Caden Hensley and Ryan Leary singled ahead of Cooper Hext's three run home run to left.  Conner Westenburg singled and Zach Yorke walked before Keaton Grady went opposite field with a three run home run to left to make it 6-2.  The Angels scored two runs on three hits in the second to make it 6-4.  Liberal added three in the third.  Hudson Polk doubled to center to lead off the inning.  Caden Hensley singled him home.  Ryan Leary hit a pop fly double to right on the spongey artificial surface.  Cooper Hext singled home a run.  Zach Yorke grounded a single to center to make it 9-4.  Both teams bullpens held down the offenses from there.
It was a big night on the mound as Liberal struck out 17 Angel batters.  Jackson Berry started for the BJ's and went three innings.  Dylan Kerbow pitched three shutout innings with five strikeouts.  Nick Moore pitched three shutout innings with five strikeouts.  Zach Yorke, Ethan Frey, Caden Hensley, Ryan Leary, and Cooper Hext had two hits a piece.  Hext had four RBI's.
Liberal is 24-4 overall and 19-1 in the RMBL.  The Angels are 11-11.   Liberals hosts the Angels at 7pm with pre-game at 6:45 Sunday night on 1270, 92.3, and The KSCB and The Legend App.  Southwest Medical Center is the buyout sponsor.