Bee Jays Win Wild One After Protest
KSCB News - July 29, 2015 4:44 pm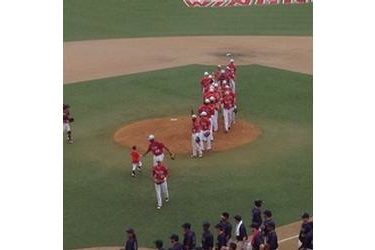 They won, then they didn't , then they did again. Liberal won a game which was placed under protest 5-3 over the San Diego Force Wednesday afternoon at Lawrence Dumont Stadium. At issue was a balk call which gave the BJ's a 3-2 lead in the top of the eighth. The Bee Jays left the field thinking they had defeated San Diego before NBC officials had both teams prepared to play staring over in the top of the eighth when the balk was incorrectly called. Force pitcher Adam Quintana faked to third and first and was called for a balk. It was incorrectly called a balk because in the NBC rules, third to first is allowed. The Force argued the call and believed they placed the game under protest. Umpires incorrectly told the Force the protest would be situated after the game. But NBC rule 13 says "Protests considered must be acted upon when entered at the time of of decision. Play will be halted when official protest takes place and acted upon by tournament director or his representative. No protests considered after the game is played because the tournament must stay on schedule." This rule coupled with the fact that to formally file a protest, you must have paperwork and 50 dollars, ultimately gave the BJ's the favorable ruling. After a long discussion with both teams in limbo as to whether the game would continue, the BJ's exited the field with the season saving win.
The Force scored in the third before the BJ's tied it in the fourth with a Micah Green two RBI double to left. The force took the 2-1 lead in the bottom of the inning. The tumultuous eighth began with two outs, the bases empty, and the BJ's down to their final four outs. Nick Brooks walked. Brady reached on a controversial call at first when it was ruled the Force first baseman pulled his foot. Cale O'Donnell laced the game tying single to left. The first to third balk scored Cox to give the BJ's the 3-2 lead. Green reached on a throwing error by the Force third baseman to lead 4-2. Hubbard singled up the middle to score the fifth run.
Brad Vassar pitched six strong innings with five strikeouts and a walk. Joel Kuhnel pitched three for the win.
Liberal out hit San Diego 10-9 while the Force had three errors. Liberal is 31-17 and has won nine of the last 10. The BJ's play at 10 or later Wednesday night against with winner of the Newton Rebels vs Park City Rangers on 12790 and kscbnews.net.