Bee Jays Win Final Game for Winning Record
Brock Kappelmann - August 11, 2016 7:16 am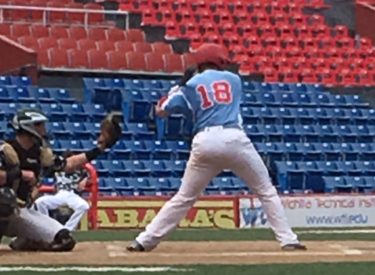 Kyle Knauth (photo by Brady Kappelmann)
Five other times the Liberal Bee Jays won their final game.  They won NBC titles in 1968, 1979, 1985, 2000, and 2010.  But with pool play in 2016, the Bee Jays won their final game 11-0 in five innings Wednesday afternoon at Lawrence-Dumont Stadium.  Both Sterling and Liberal came in 0-2 in pool play after losses to the NJCAA All Stars and Kansas Stars.
Reid Petty (3-2) gave Liberal another solid start going four strong innings for the win.  Petty allowed just two hits.  Andy Schwulst pitched a scoreless inning.
Donny Ortiz singled home two runs with two outs in the second.  Liberal scored six on four hits in the third.  Cale O'Donnell, Owen Taylor, and Brandon Urquizo singled home runs and Luke Reinschmidt provided a two RBI single.  Liberal scored two runs on an error in the fifth and Blake Jenkins provided an RBI single.  O'Donnell was 3-4 with two doubles.
Liberal finishes 26-24 and 5-2 in the NBC.  The Sterling Xpress, the Rocky Mountain Baseball League champs, finish 33-12.