Bee Jays Win Big After Blair's Farewell
Brock Kappelmann - June 30, 2022 6:42 am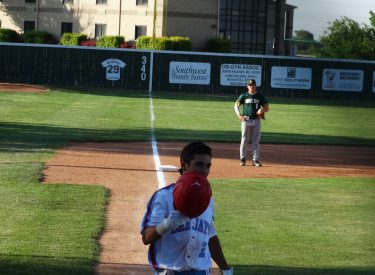 Bee Jay head coach Jim Blair has left the team to take a new college coaching job.  Blair informed the team Wednesday afternoon at Brent Gould Field before Liberal's non league game against the Dodge City A's.  The team Blair put together showed no signs of being in the doldrums after their coach left.  The Bee Jays run ruled the visiting Dodge City A's 11-1 in eight innings.
Liberal got off to another strong start in the first scoring four in the first inning.  Gavin Brzozowski led off the first with a home run off the scoreboard.  Keaton Grady and Caden Hensley singled and Ethan Frey lined a three run home run over the left field wall.  Dodge City scored a run in the fourth when Liberal failed to catch in infield pop up.  But the BJ's broke the game wide open in the fifth with six runs.  Tyce Armstrong and Caden Hensley singled.  Ethan Frey walked.  With two outs, Jack Arthur walked with the bases loaded.  Ryan Leary singled home two runs.  Gavin Brzozowski doubled down the left field line to score two.  Keaton Grady singled home a run.  Liberal scored in the eighth when Ethan Frey singled and scored on Ryan Leary's RBI single.
Hunter Estill pitched four strong innings with eight strikeouts allowing one run.  Nick Moore pitched three shutout innings.  Jett Brown pitched a scoreless inning.  Caden Hensley stayed hot going 4-5 with a double.  Gavin Brzozowski was 2-4 with a homer and a double.  Ethan Frey was 2-3.  Ryan Leary was 2-4 with three RBI's.  Keaton Grady was 2-5.  Tyce Armstrong was 2-4.
Liberal has won 10 of the last 11 against Dodge City and is 13-4.  Dodge City is 9-12.  This was a non league game.  Liberal hosts the Denver Cougars Friday night at 7pm with the Dugout Show at 6:45 on 1270, 92.3, and The KSCB and The Legend App.  Equity Bank is the buyout sponsor for Friday night's game.