Bee Jays Win 8th Straight Over Dodge City
Brock Kappelmann - July 21, 2021 7:16 am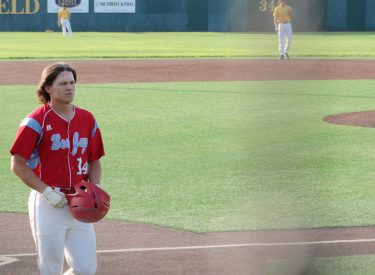 Dating back to three wins at the end of  the 2019 season, the Liberal Bee Jays have won eight straight against the Dodge City A's.  But again, it wasn't easy.  Liberal rallied from down 4-1 to beat the A's 8-7 Tuesday at Cavalier Field in Dodge City.  Liberal won their last four games against Dodge City by a combined six runs.
Wyatt Grant slammed a solo home run to left in the first.  Dodge City scored three unearned runs against starter Braxton Hyde in the first.  The A's scored one in the second for the 4-1 lead.  Quintt Landis and Wyatt Grant both hit home runs in the second to make it 4-3.  Liberal tied the game at 4-4 wit ha run in the fourth.  Scott Anderson walked and took two bases on a wild pitch.  Reed Thomas hit a sacrifice fly to right to score Anderson.  Dodge City scored in the bottom of the fourth to lead 5-4.  Liberal tied the game at 5-5 in the fifth as Quintt Landis singled and stole second.  AJ Folds hit a double one hopping the wall in left to score Landis.  The Bee Jays scored two in the sixth to score two.  Scott Anderson singled to lead off the sixth.  KP Werner walked.  Aidan Shepardson was hit by a pitch.  Quintt Landis ground ball to short resulted in a Dodge City error and two BJ runs.  The A's scored two in the seventh to tie the game at 7-7.  In the ninth, Liberal scored a run for the lead.  Cayde Ward was beaned to begin the inning.  Ward went to second on a wild pitch.  KP Werner singled to right.  Reed Thomas bounced a single to right to score Ward.
Dodge City out hit the Bee Jays 15-9 but Liberal hit three home runs to Dodge City's one.  Braxton Hyde pitched five innings allowing five runs but only two were earned.  Hyde struck out six and walked two.  Brady Bowles worked a scoreless inning.  Jack Chester pitched a scoreless ninth for the save.
Liberal is 24-6 overall and 23-5 in KCLB games.  They are 17-2 in the Jayhawk Division.  Dodge City is 21-15 overall and 11-9 in the Jayhawk.  The A's had won six in a row.  Liberal begins a two game series at Wellington Wednesday with a 7 pm game on 1270 and kscbnews.net.  Dugout Show begins at 6:45.