Bee Jays Win 4th of July Game
KSCB News - July 5, 2016 3:08 pm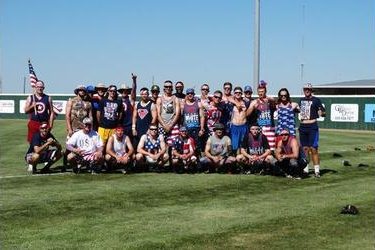 For the first time since 2013, the Liberal Bee Jays won their 4th of July game.  Monday night the BJ's held off the Dodge City A's 6-5 to sweep the series to begin the second half of the Jayhawk Leauge standings.
Andy Schwulst pitched 5 and 2/3 strong innings allowing two earned runs.  Jakob Hernandez pitched 1 and 1/3 scoreless and JB Olson pitched a scoreless ninth for his fifth save.  The BJ's were buoyed by their defense after two diving stops by third baseman Matt Elsenpeter.  The BJ's scored first when they loaded the bases with no outs in the second and Jaron Robinson sliced a fly ball to right for a sacrifice fly.  The A's scored a couple of unearned runs in the third to lead 2-1.  Liberal answered in the fifth when Matt Elsenpeter doubled.  Cale O'Donnell grounded out to drive home a run and Brandon Urquizo scored on a wild pitch for a 4-2 BJ lead.  The A's tied it in the sixth to chase starter Andrew Schwulst.  The BJ's scored their final two runs in the sixth with two outs.  Urquizo doubled down the first baseline and Trey Kamachi singled home a run.
Liberal is 3-0 in the second half and 10-14 overall while Dodge City is 0-3 in the second half.  The BJ's don't play until Friday when they host Wellington to begin a three game series.  Bisteca and Rapid Fit are the buyout sponsors. The game airs on 1270 and kscbnews.net.