Bee Jays Walk Past Pipeliners
Brock Kappelmann - June 12, 2019 6:49 am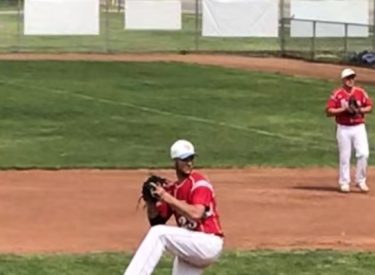 In a three hour seven inning debacle which featured 26 walks, the Liberal Bee Jays won game one 15-6 before claiming a weather shortened game two 6-2 over the McPherson Pipeliners at Edward Jones Light Capital Field Tuesday afternoon and evening.
In game one, the BJ's only needed 10 hits to score 15 runs. McPherson pitching walked 15 and beaned three. Cole Evans went five solid innings on the mound for Liberal allowing two runs. Trevor Pruitt worked a scoreless frame. The Pipliners scored two runs in the first to take the lead. Liberal answered in the second with four runs.  McPherson walked the first three batters before Jordan Williams singled home a run. Connor Emmet ripped a two RBI double to right center for the 3-2 lead. Liberal scored another run on a wild pitch. The Bee Jays added a fourth inning run as Corbin Truslow lined a double over first to make it 5-2. Liberal broke it open in the fifth. Emmet stroked a two run homer to left for his second of the summer. Truslow's two run homer to right was his third on the early season and when Cayde Ward launched a homer to left, the BJ's had back to back homers and a three home run inning. Liberal scored seven in the frame. The Bee Jays couldn't help but score three more in the sixth when McPherson walked the first three and then a HBP to begin the inning.  Truslow's beanball scored a run. Trevor MacDonald hit a sac fly. Trevor Beard singled home a run. McPherson walked 15. The Bee Jays walked five in the seventh to reach 11.
The Pipeliners again scored two in the first to take a 2-0 lead in game two against starter Jon Sotto. But Sotto slammed the door shut  for the rest of the night. He allowed two hits the rest of the game. He struck out six and walked one. The BJ's revved up their offense in the third.  Emmet and Blake Dickman provided RBI singles before Ward's towering home run to left made it 4-2. It was the Seward sluggers' third of the season.  Liberal scored two more in the sixth as Colton Moore hit a sac fly and Tristan Stacy singled home a run. The Bee Jays has two on with one out in the seventh leading 6-2 when the game was delayed due to lightning. With the storm bearing down on McPherson, the game was called off but was an official game and a Bee Jay win for the double header sweep.
Liberal is 7-2 and 6-2 in the Kansas Collegiate. The Pipeliners are 4-6 overall and 2-6 in league. The Bee Jays play at Wellington Wednesday night at 7 with the Dugout Show at 6:45 on 1270 and kscbnews.net.
Game 1 audio:
Game 2 audio: